Description
Avandamet Uses, Dosage & Side Effects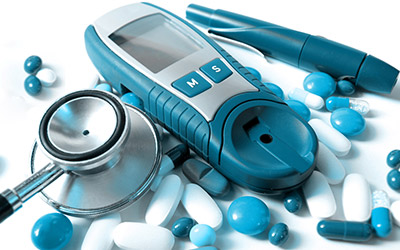 Chemical Name ROSIGLITAZONE (roh-si-GLI-ta-zone) and METFORMIN (met-FOR-min)
Avandamet (Rosiglitazone/Metformin)
Avandamet is used to treat high blood sugar levels that are caused by a type of diabetes mellitus or sugar diabetes called type 2 diabetes. It acts by making your body more sensitive to insulin. It, therefore, helps your body make better use of the insulin it produces and thus, helps to restore your blood sugar towards a normal level. It is used with a healthy diet and proper exercise to control high blood sugar.
Controlling high blood sugar helps prevent nerve problems, kidney damage, and loss of limbs, blindness, sexual function problems, and heart attack. Rosiglitazone medicine lowers blood sugar by helping to restore your body's proper response to insulin. Metformin also decreases the amount of sugar that your liver makes and that your stomach/intestines absorb.
You can currently buy Avandamet from Canada Pharmacy at the best rates.
Directions
Take Avandamet by mouth as prescribed by your physician usually once or twice daily with a meal.
Ingredients
Avandamet's active ingredients include rosiglitazone and metformin hydrochloride. The inactive ingredients include:
Sodium starch
Glycolatey
Promellose
Microcrystalline cellulose
Povidone
Lactose
Magnesium stearate
Titanium dioxide
Macrogol 400
Iron oxide yellow
Iron oxide red
Cautions
You may experience blurred vision, dizziness, or drowsiness due to extremely low or high blood sugar. Avoid driving, operating machinery, or do any activity that requires attention or clear vision until you are sure you can perform such activities safely.

Limit alcohol while taking this medication because it can increase your risk of developing low blood sugar. Before taking this medication, tell your doctor or pharmacist if you are allergic to rosiglitazone or metformin or if you have any other allergies.

This product may contain inactive ingredients, which can cause allergic reactions or other problems. Also, let your doctor know about your medical history.
Side Effects
Side effects that may occur while taking this medication include:
Body aches or pain
Cough
Fever
Sneezing
Sore throat
Difficulty in breathing
Ear congestion
Fever
Loss of voice
Nasal congestion
Pain or tenderness around eyes and cheekbones
Stuffy or a runny nose
Tightness of chest
Headache
Weight gain
Loss of appetite
Fever may also occur
If any of these effects persist or worsen, consult your doctor immediately.
IMPORTANT NOTE: The above information is intended to increase awareness of health information and does not suggest treatment or diagnosis. This information is not a substitute for individual medical attention and should not be construed to indicate that use of the drug is safe, appropriate, or effective for you. See your health care professional for medical advice and treatment.
Product Code : 2398