Description
DISCLAIMER:
The FDA advises against the use of ivermectin to treat or prevent COVID-19.
Read More
.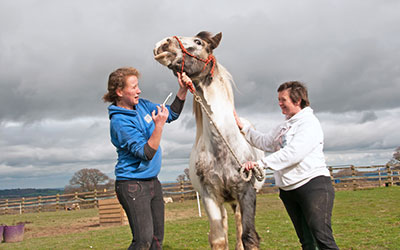 Eqvalan Paste Horse Wormer
Eqvalan (1.87% Ivermectin) Paste
Equine parasites can cause a wide range of health problems for all horses, regardless of breed, age, or stable environment. Parasitic worms and bots can lead to liver and lung damage, intestinal bleeding, blindness, bronchitis, colic, lameness, blood clots, dermatitis, and diarrhea. Eqvalan (1.87 Ivermectin) paste safely and effectively protects horses from damage caused by these parasites mentioned above. Eqvalan removes bolts and worms from horse's mouth with a single use.
You can purchase Eqvalan paste online from Canada Pharmacy.
Directions
The Eqvalan Paste is meant for oral use (in horses) only.
Before using this paste, consult your doctor regarding the diagnosis, control, and treatment of the parasites in your horse's mouth. This paste provides protection and treatment against the following parasites:
Large Strongyles (adults)
Small Strongyles (adults, including those resistant to some benzimidazole class compounds) –;
Large-mouth stomach worms.
The content of a single oral syringe is enough for the treatment of one 1250 lb horse at the recommended dose rate of 91mcg per lb. Each weight marking on the oral syringe plunger delivers enough paste to treat 250 lb of body weight. All horses should be included in a regular parasite control program with particular attention being paid to mares (including pregnant mares at any stage of pregnancy), foals, and yearlings. Foals should be treated initially at 6 to 8 weeks of age, and routine treatment repeated as appropriate. Stallions may be treated without adversely affecting their fertility.
Ingredients
The main ingredients is Ivermectin 1.87%.
Cautions
Eqvalan paste is for use in horses only.
When used on other animal species, consult a vet first as severe reactions can occur including fatalities in dogs, may result.
Do not use on horses intended for food purposes.
This product is not intended for use in humans.
Do not smoke or eat when handling this product. Wash hands after use.
Avoid contact with eyes.
Do not contaminate ground or surface water.
Dispose off the syringe in an approved landfill or by incineration.
Side Effects
Swelling and itching reactions after treatment with Eqvalan (ivermectin paste) have occurred in horses carrying heavy infections of neck thread microfilariae.
These reactions were most likely the result of microfilariae dying in large numbers. Symptomatic treatment may be advisable.
IMPORTANT NOTE: The above information is intended to increase awareness of health information and does not suggest treatment or diagnosis. This information is not a substitute for individual medical attention and should not be construed to indicate that use of the drug is safe, appropriate, or effective for you. See your health care professional for medical advice and treatment.
Product Code : 9696