Description
Nourkrin Shampoo For Men & Woman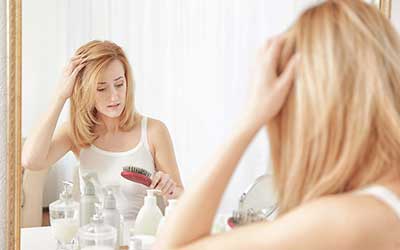 Nourkrin
Nourkrin shampoo and scalp cleaner is to help protect the components of your hair follicle. This shampoo is scientifically formulated to protect the scalp and increase the hair volume.
Nourkrin women shampoo helps provide a gentle cleanse for the scalp and your hair which, in turn, gives your hair a healthy environment for growth. The hair growth cycle can be disrupted by stress, genetics, diabetes, poor nutrition, hyperthyroidism, cholesterol, medication, childbirth, hormones, hypertension, hairstyling, and others but this shampoo takes care of your hair and brings back the shine.
This shampoo is ideal for hair loss treatment and can be used by men and women both. It can be purchased online from Canada Pharmacy.
Directions
This medication is to be used on the skin (scalp) only. Use this medication as directed by your doctor. Moisten your hair and scalp or clean the place where this is supposed to be applied. Apply enough shampoo to wash your scalp and hair.
Gently massage your hair gently, making sure that the shampoo reaches your scalp. Leave the shampoo on for about 5 minutes and then rinse thoroughly. Dry your hair as you normally do.
Make sure that you store this medication at room temperature away from direct heat or sunlight.
Use this drug regularly to get more benefits and to enjoy luscious, thick hair.
Ingredients
The ingredients in Nourkrin woman hair loss treatment shampoo are:
Aqua
Sodium Laureth sulphate
Decyl Glucoside
Cocamidopropyl Betaine
Guar hydroxypropyltrimonium chloride
C12-13 Alkyl lactate
Hydroxypropyl oxidized starch PG-trimonium chloride
Starch hydroxypropyltrimonium chloride
Glycerin
Butylene glycol
Propylene glycol
Sodium lactate
Lactic acid
Urea
It also includes PPG-26-Buteth-26, PEG-40 Hydrogenated castor oil, Sodium chloride, Apigenin, Oleanolic acid, Biotinoyltripeptide-1, P-Anisic Acid, Levulinic acid, Diazolidinyl Urea, Menthol, and Iodopopynyl butyl carbamate.
Cautions
Let your physician know about the medical treatments and medicines you are using.
Let your doctor know if you have any allergies before using it especially with the ingredients mentioned above.
Tell your doctor about the medical history of the family. Some ingredients might be harmful to you because of your family history.
This medication can be used during pregnancy if it is necessary; make sure to discuss the risks and benefits with your doctor first.
Side Effects
This shampoo has no known side effects as of now, and is considered incredibly safe and drug-free.
IMPORTANT NOTE: The above information is intended to increase awareness of health information and does not suggest treatment or diagnosis. This information is not a substitute for individual medical attention and should not be construed to indicate that use of the drug is safe, appropriate, or effective for you. See your health care professional for medical advice and treatment.
Product Code : 9745