Description
What is Shiseido Men's Skincare used for?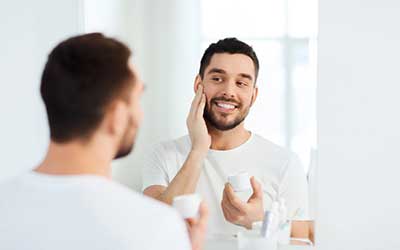 Shiseido Men's Skincare is designed specifically for the men's skin.
Shiseido Men's Skincare is a highly indulgent and utterly essential technology that helps in treating dry skin by reinforcing the structure of the skin to help resist the signs of aging. This product is ideal for men who want to feel youthful and look young.
Shiseido Men's Skincare brings many products with a high-performance cream formulated with Marine protein complex giving your skin light and refreshing touch. These men products contain creams that help in energizing skin and aid to defy dryness, dullness, fine lines and other signs of aging.
Some products include men moist emulsion, hydro master gel, hydrating lotion, total revitalizing cream, anti-shine refresh and men eye soother.
It is available online at Canada Pharmacy.
Directions
Each of these products has a different and unique formula which is why they all are used differently. Shiseido Men Total Revitalizer Cream can be applied in the morning and night, twice a day, after shaving or cleansing your skin.
Men's moist emulsion must be applied after cleansing and shaving as well. The hydro master gel must be applied after cleansing; smooth two pumps and apply it all over your face.
Ingredients
Every Shiseido Men's skincare product has different ingredients, but many of them contain alcohol, UV blocking ingredients, SPF protection, paraffin, and vitamin E.
Cautions
Do let your physician know about the medical treatments and medicines you are using.
Let your doctor know if you have any allergies before using it.
Tell your doctor about the medical history of the family and your medical history.
Side Effects
Some common side effects of Shiseido Men's Skincare include:
Photo contact sensitivity
Rash
Acne
Contact dermatitis
Inflammation of hair follicle
Skin irritation
Severe dizziness
Trouble breathing
Keep in mind that not everyone undergoes these side effects, these effects are possible but do not always occur.
Keep in mind that your dermatologist has prescribed you this medication because its benefits to you are greater than the risk of side effects. Many people who use this medication do not have serious side effects.
However, if you experience any serious side effects or if the above-mentioned side effects do not go away, then get medical help right away.
IMPORTANT NOTE: The above information is intended to increase awareness of health information and does not suggest treatment or diagnosis. This information is not a substitute for individual medical attention and should not be construed to indicate that use of the drug is safe, appropriate, or effective for you. See your health care professional for medical advice and treatment.
Product Code : 9516