Description
Uniphyl 400 mg Uses and Indications: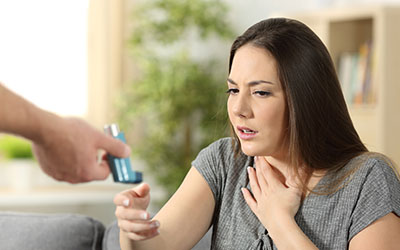 Chemical Name: THEOPHYLLINE (thee-OFF-i-lin)
The chemical name of Uniphyl is theophylline which relaxes and opens the air passages in the lungs. It is used in the prevention and treatment of:
Wheezing
Shortness of breath
Difficulty breathing caused by asthma
Chronic bronchitis
Emphysema
Uniphyl 400 mg is available for purchase online at Canada Pharmacy.
Directions
Theophylline tablet is taken orally, once or twice a day as prescribed by your healthcare provider. The amount of medication to be taken depends on your medical condition and the duration of the treatment. It may interact with other drugs, so make sure you tell your doctor about all the medications you are taking.
Ingredients
Theophylline is a methylxanthine drug which is used in the treatment of respiratory diseases such as chronic obstructive pulmonary disease and asthma. It contains:
Theophylline 400 mg
Cetostearyl alcohol
Hydroxyethyl cellulose
Magnesium stearate
Povidone
Cautions
If you are allergic to it or if you have any other kind of allergies, it is better to inform your healthcare provider, before taking Uniphyl. To know more details, you should talk to your doctor.
Your physician should know your complete medical history as this is very crucial, especially of:
Stomach/intestinal ulcer
Seizures
Thyroid disease
Heart problems
Liver disease
High blood pressure
The benefits and the risk of using Uniphyl during pregnancy should be discussed with the doctor.
Side Effects
If you are using Uniphyl with consultation from your doctor, then you should keep the fact in mind that he has weighed the pros and cons of the medicine before prescribing them to you. There are a few side effects of using Uniphyl. You need to look out for the following and inform the doctor if they worsen:
Nausea
Stomach pain
Headache
Trouble sleeping
Diarrhea
Irritability
Restlessness
Irregular heartbeat
Muscle cramps
Fainting
Confusion
Dizziness
Get medical help right away if you have any very serious side effects.
Developing an allergic reaction to Uniphyl is rare. However, if such a situation arises, get medical assistance immediately.
If you notice anything other than above-listed side effects, you should contact your physician.
IMPORTANT NOTE: The above information is intended to increase awareness of health information and does not suggest treatment or diagnosis. This information is not a substitute for individual medical attention and should not be construed to indicate that use of the drug is safe, appropriate, or effective for you. See your health care professional for medical advice and treatment.
Product Code : 1882