Description
Capital Soleil Lotion Uses and Indications: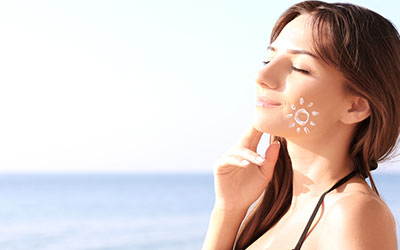 Vichy Capital Soleil (with Mexoryl)
Vichy Laboratories is considered to be one of the best dermo-cosmetic brands in Europe; the brand is now expanding into other continents as well. Vichy Capital Soleil is a sunscreen that helps in protecting the skin against both UVA and UVB radiations. This cream is dermatologist approved and is suitable for all skin types. The cream's formula doesn't lose its efficiency even in the sun. The cream is easy to apply; it has a hydrating texture which hydrates the skin without leaving any sticky residue on your skin. There are three different types of Vichy Capital creams; they include Vichy Capital Soleil with an SPF of 45 and Vichy Capital Soleil 60. Vichy Capital Soleil cream is paraben free and includes fortifying thermal spa water which helps by soothing the skin and prevents all sorts of damage caused by the sun. Mexoryl present in the creams filters out the skin and offers coverage along with sun protection. It preserves the skin and prevents skin pigmentation as well.
You can purchase the cream online at Canada Pharmacy.
Directions
Apply the cream liberally, all over your face and body at least 15 to 30 minutes before you go out in the sun. Reapply the cream after every 2 hours, after swimming, and also if you've had heavy perspiration.
Ingredients
The active ingredients present in Vichy Capital Soleil include:
Octocrylene
Titanium Dioxide
Avobenzone
Drometrizole Trisiloxane (Mexoryl XL)
Terephthalylidene Dicamphor Sulfonic Acid (Mexoryl SX)
Cautions
Before using this cream on your entire body and face, it is better if you do a strip test. Apply the cream on a little part of your arm and see if you experience any allergic reaction or if sudden pimples pop up. In case of an allergic reaction, stop using the cream immediately and consult your dermatologist.
Side Effects
The Vichy Capital Soleil cream does not have any severe side effects; there are some rare cases where people have experienced an allergic reaction to the cream. Some other undesirable issues that you can face include clogged pores leading to both blackheads and whiteheads and can even cause breakouts. This cream usually does not cause acne or pimples; however, the effects are different for everyone.
IMPORTANT NOTE: The above information is intended to increase awareness of health information and does not suggest treatment or diagnosis. This information is not a substitute for individual medical attention and should not be construed to indicate that use of the drug is safe, appropriate, or effective for you. See your health care professional for medical advice and treatment.
Product Code : 9401