Description
Bowser Beer Features, Uses and Ingredients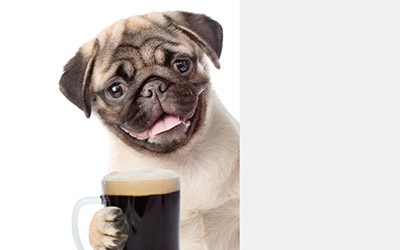 3 Busy Dogs Bowser Beer is a healthy, fun, non-alcoholic, and non-carbonated drink specifically designed for your dog so that he doesn't miss out the party. You can give it to him straight out of the bottle or serve it as a topping to make dry food tastier. Dogs love to drink beer and now they can enjoy a delicious and festive brew that is made just for them from 100% American ingredients. Bowser Beer for dogs contains no alcohol or hops making it perfectly safe for your dog. It is a low fat and low-calorie drink so now you can enjoy a drink together with your best buddy!
You can buy Bowser Beer for dogs from Canada Pharmacy at the best price and have it delivered to you.
Directions
Dogs have different tastes. Some dogs like to have Bowser Beer straight out of their bowls while others prefer it poured over their food to make their dinner extra special. You can also try making your own recipes to find out how your dog likes it best. In summers you can freeze it to make a cool treat or just serve it by pouring it over dry kibble.
Suggested serving: Half bottle for medium to small dogs and full bottle for big dogs.
Ingredients
Bowser Beer for dogs is made from pure chicken/beef broth, malt barley, citric acid, glucosamine, and sodium benzoate.
Malt barley gives an extra shine to your dog's coat while glucosamine increases their joint health. There are no salts, fat, or onions added to it. All the ingredients are human grade, approved and guaranteed by concerned authorities.
It is free from alcohol and hops. It is available in 12 0z recyclable plastic bottles with re-sealable caps. Refrigerate after opening.
Cautions
It is not healthy to give your dog normal human beer as it contains hops which can be toxic to them. That's why, keep your pet safe and opt to buy Bowser Beer for dogs.
Side Effects
Some dogs like the taste of chicken flavor better than the beef flavor. You can try both flavors to find out which one your dog likes best. There are very few side effects such as:
Nausea
Frequent urination
IMPORTANT NOTE: The above information is intended to increase awareness of health information and does not suggest treatment or diagnosis. This information is not a substitute for individual medical attention and should not be construed to indicate that use of the drug is safe, appropriate, or effective for you. See your health care professional for medical advice and treatment.
Product Code : 10799