Description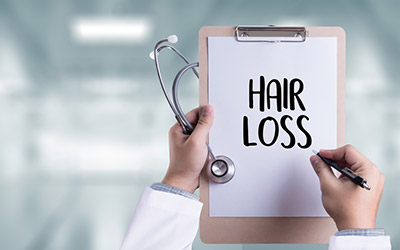 Chemical Name: FINASTERIDE (fi-NAS-teer-ide)
PROPECIA(Finasteride) is a medication prescribed to treat and prevent male pattern baldness in male patients.
Male pattern baldness (androgenetic alopecia) typically occurs in adults over the age of 18. In men with this condition, the scalp contains hair follicles with an increased amount of receptors for dihydrotestosterone (DHT) compared to those without male pattern baldness. DHT receptors often increase with age.
PROPECIA works by lowering the amount of circulating DHT, preventing the destruction of hair follicles. PROPECIA is a 5-alpha-reductase inhibitor and works by preventing enzyme 5-alpha-reductase from converting testosterone to DHT.
PROPECIA may take several weeks or months to begin showing a noticeable effect. PROPECIA must be taken every day to work effectively.
Directions
The normal directions are to take 1 mg by mouth once daily with or without food.
Take PROPECIA exactly as prescribed by your doctor.
Ingredients
The active ingredient in PROPECIA is finasteride.
Finasteride 1 mg is the name for generic PROPECIA.
Fact Table

Formula

C23H36N2O2

License

US FDA

Bioavailability

65%

Legal status

US: RX Only

Chemical Name

Finasteride

Elimination half-life

Adults: 5–6 hours Elderly: Greater than 8 hours

Dosage (Strength)

1mg (28, 56, or 84 tablets)

Pregnancy

Consult a doctor

Brands

Propecia, Proscar

Protein binding

90%

PubChem CID

57363

MedlinePlus

a698016

ChEBI

5056

ATC code

G04CB01

DrugBank

DB01216

KEGG

D00321

Routes of administration

By mouth
Cautions
PROPECIA is not indicated for the treatment or prevention of baldness in women or children.
Pregnant women should not handle PROPECIA tablets because they can absorb through the skin and cause birth defects.
Use with caution if you have a history of hepatic impairment, as PROPECIA is metabolized extensively in the liver.
Side Effects
The most common adverse effects that happen when taking PROPECIA include:
Decreased libido
Ejaculation disorder
Speak to your doctor or pharmacist for a full list of side effects that apply to you.
References
Propecia [package insert]. Whitehouse Station, NJ: Merck; 2010.
Male Pattern Baldness, Healthline, September 25th, 2017. Retrieved May 2020.
IMPORTANT NOTE: The above information is intended to increase awareness of health information and does not suggest treatment or diagnosis. This information is not a substitute for individual medical attention and should not be construed to indicate that use of the drug is safe, appropriate, or effective for you. See your health care professional for medical advice and treatment.
Product Code : 1750