Description
Zyrtec Allergy Medication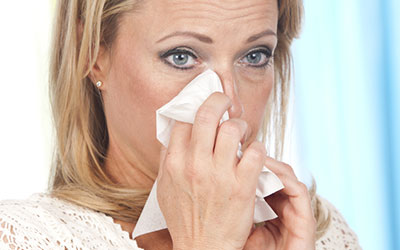 Zyrtec (Cetirizine)
Zyrtec, or cetirizine, is a second generation antihistamine used in the treatment of hay fever, allergies, angioedema, and urticaria. This medicine works by blocking a natural substance, histamine that your body makes during an allergic reaction. It is also used to relieve allergic symptoms such as watery eyes, itching, and sneezing.
Zyrtec generic can be easily purchased from Canada Pharmacy.
Directions
Both Zyrtec medicine and Zyrtec OTC are to be taken orally, once daily or as prescribed by your doctor to achieve optimal results. Take it at the same time each day. It is recommended to swallow it whole and allow the tablet to dissolve on the tongue, with or without water.
Inform your doctor if you experience allergic symptoms. If your hives worsen and last more than six weeks, seek medical attention immediately.
Ingredients
Active: Cetirizine, Pseudoephedrine
Inactive: Colloidal silicon dioxide, hypromellose, lactose monohydrate, etc.
Fact Table

Formula

C21H25ClN2O3

License

US FDA

Bioavailability

Well-absorbed (greater than 70%)

Legal status

OTC

Chemical Name

Cetirizine

Elimination half-life

Mean: 8.3 houts, Range: 6.5-10 hours

Dosage (Strength)

10mg (40 or 100 tablets), Syrup (100mL)

Pregnancy

Consult a doctor

Brands

Zyrtec, Zyrtec Allergy, Children's Zyrtec Allergy, Children's Zyrtec Hives Relief

Protein binding

88-96%

PubChem CID

2678

MedlinePlus

a698026

ChEBI

3561

ATC code

R06AE07

DrugBank

DB00341

KEGG

D07662

Routes of administration

By mouth
Cautions
Some medical conditions coupled with Zyrtec may result in adverse reactions. To avoid such cases, inform your doctor if you have:
A history of liver and kidney diseases
An enlarged prostate and difficulty urinating
Unusual hives, colored, bruised or blistered
Known allergies
Pregnant or breastfeeding
Diabetes
An addiction, such as that of alcohol and marijuana.
As this drug may cause dizziness, you are cautioned to avoid activities such as driving. You are also advised not to take this medication with other antidepressants as the risk of seizures may increase. Weigh the risks and benefits with your specialist.
It is essential that you routinely get medical tests, such as that of kidney/liver functions and complete blood count. The liquid equivalent of Zyrtec may contain sugar; thus caution is advised if you suffer from diabetes.
Side Effects
This medication is not without any side effects, but some side effects such as dry mouth, stomach pain, drowsiness, dizziness, nausea, diarrhea, and fatigue can be expected as your body adjusts. If you experience the following persistently, consult your doctor:
Tingling of arms/legs
Easy bleeding and bruising
Signs of infections such as fever and sore throat
Painful and bloody urine
Severe abdominal pain
Weight loss
Eye pain, vision disruption
Signs of kidney issues
Rash
Persistent vomiting and nausea
Allergic reactions to Zyrtec are rare but if you experience symptoms like rashes, itching, swelling or trouble breathing; inform your specialist immediately.
IMPORTANT NOTE: The above information is intended to increase awareness of health information and does not suggest treatment or diagnosis. This information is not a substitute for individual medical attention and should not be construed to indicate that use of the drug is safe, appropriate, or effective for you. See your health care professional for medical advice and treatment.
Product Code : 19