Description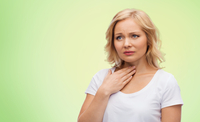 What is SYNTHROID?
SYNTHROID is a replacement for a thyroid hormone that is usually produced by your thyroid gland to regulate the body's energy and metabolism.
What is SYNTHROID For?
SYNTHROID contains a chemical called Levothyroxine which is primarily used to treat hypothyroidism (low thyroid hormone). SYNTHROID is also used to prevent and/or treat an enlarged thyroid gland which is referred to as goiter. It may be used to treat other conditions as determined by your doctor.
How to Take SYNTHROID?
Your doctor will prescribe how to take SYNTHROID and it's very important to follow their instructions. Since it is a daily medication, having a daily routine will help.
When to Take SYNTHROID?
Tips on when to take SYNTHROID:
Take it on its own (with water on an empty stomach)
Take it at the same time every day
Take it in the morning
Take it 30 minutes – 1 hour before eating
The best solution for when and how to take SYNTHROID is to have a morning routine.
How Long Does it Take for SYNTHROID to Work?
It may take a few weeks before you notice the effects of the medication so do not stop taking the medication. It is advised to visit your physician, as your blood, liver and kidneys might need to be regularly tested to ensure the medication is working properly.
Buying SYNTHROID Online?
Buy SYNTHROID online by adding the product to your cart above. The SYNTHROID price varies depending on the product (brand name or generic) and size you select. Buying SYNTHROID online is easy at CanadaPharmacy.com. Simply select your product and buy SYNTHROID online today.
Directions
SYNTHROID comes in a tablet form and should be taken orally, exactly as prescribed by your physician. It is recommended to take a tablet once a day in the morning on an empty stomach, an hour before eating. Take the tablet with a full glass of water at the same time each day. SYNTHROID should be taken at least 4 hours apart from drugs that are known to interfere with its absorption.
For children and infants who have difficulty consuming tablets, crush the tablet and mix it with 1-2 teaspoons of water and give it immediately without food or formula.
Cautions
Before taking SYNTHROID, consult your physician to verify if you are allergic to it or if you have any other allergies. This product may contain inactive ingredients, which can cause allergic reactions or other problems.
SYNTHROID may not be recommended for certain situations and/or conditions, so share your medical history with your physician. Conditions such as increased thyroid hormones (thyrotoxicosis), decreased adrenal gland function, heart disease (such as coronary artery disease, irregular heartbeat), high blood pressure and diabetes may indicate this medication is not right for you. It is important to consult your physician about any health conditions such as:
Diabetes mellitus
Low levels of pituitary hormone
Heart disease
Angina
Previous heart attack
An unusual or abnormal reaction to SYNTHROID, other thyroid hormones, medications, foods, dyes or preservatives
High blood pressure
Dieting or on a weight loss program
If you are pregnant, breast feeding or currently trying to become pregnant, make sure your doctor is aware of your maternal condition
Advise your physician if you are planning to have surgery
Tell your doctor about all prescription drugs, nonprescription drugs, and herbal products that you are using
Side Effects
As with any medication, there is the possibility of side effects while using SYNTHROID. If you experience any of the symptoms below and they continue to persist, talk to your physician immediately.

Common side effects of SYNTHROID may include:
Tremors
Weight loss
Nausea and/or vomiting
Increased appetite
Headache
Temporary hair loss
Diarrhea
Nervousness
Irritability
Stomach cramps
Insomnia
Sensitivity to heat
Excessive sweating and/or fever
Angina or irregular heartbeat
Changes in menstrual cycle
The following side effects are rare and should not be taken lightly. If you experience any of these side effects while taking SYNTHROID, consult your physician immediately.
Chest pain
Nervousness
Fast/irregular heartbeat or pulse
Excessive sweating or intolerance to heat
Skin rash or hives
Difficulty breathing, wheezing or shortness of breath
Swelling of ankles, feet or legs
Stop using SYNTHROID and get emergency medical help if you have any of these signs of an allergic reaction:.
Hives
Difficulty breathing
Swelling of your face, lips, tongue, or throat
Talk to your doctor about the potential risks associated with this medication..
IMPORTANT NOTE: The above information is intended to increase awareness of health information and does not suggest treatment or diagnosis. This information is not a substitute for individual medical attention and should not be construed to indicate that use of the drug is safe, appropriate, or effective for you. See your health care professional for medical advice and treatment.
Product Code : 1602