Description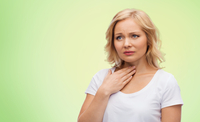 Synthroid (Levothyroxine) is a medication used to treat hypothyroidism. Hypothyroidism occurs when there is too little thyroid hormone in the body, which can cause a variety of symptoms that impact mood, weight, and body temperature.
The body may have too little thyroid for several reasons, including problems with the thyroid gland itself, problems with the pituitary gland -- which send functional signals to the thyroid gland, differences in genetics (congenital), or acquisition with age.
Synthroid is a synthetic version of the thyroid hormone T4. The generic name is levothyroxine. Synthroid replaces T4 and is converted to active thyroid hormone, T3, in the body.
Directions
Synthroid dosages can range from 12.5 to 200 micrograms daily. Some people may require doses above this range.
Synthroid should be taken on an empty stomach, at least 30 minutes before a meal. Synthroid can be taken with water. Take Synthroid in the same manner each day, since food can timing can change how much is absorbed and impact the treatment.
Ingredients
The active ingredient in Synthroid is levothyroxine sodium.
Fact Table

Formula

C15H11I4NO4

License

EU EMA

Bioavailability

40-80%

Legal status

RX Only

Chemical Name

Levothyroxine

Elimination half-life

7 days in hyperthyroidism 3–4 days, in hypothyroidism 9–10 days

Dosage (Strength)

0.025mg, 0.050mg, 0.075mg, 0.88mg, 0.100mg, 0.112mg, 0.125mg, 0.137mg, 0.150mg, 0.175mg, 0.200mg, 0.300mg (90 tablets)

Pregnancy

Consult a doctor

Brands

Synthroid, Levoxyl, Unithroid, Levothroid

Protein binding

-

PubChem CID

5819

MedlinePlus

a682461

ChEBI

18332

ATC code

H03AA01

DrugBank

DB00451

KEGG

D08125

Routes of administration

By mouth
Cautions
Use Synthroid with caution in older adults with underlying cardiovascular disease.
Synthroid requires regular lab monitoring to be effective. Following recommendations from your doctor regarding dose changes and lab monitoring.
Synthroid and other replacement thyroid hormone medications may impact blood glucose control in diabetic patients.
Excess thyroid hormone can decrease bone mineral density, so the lowest effective dose should be used.
Side Effects
If you experience adverse reactions while taking Synthroid, it may be a sign that the dose is too high or too low. Speak with your doctor about any side effects. Common side effects of Synthroid medication include:
Abdominal cramps
Arrhythmias
Diarrhea
Dyspnea
Emotional lability
Excessive sweating
Fatigue
Fever
Flushing
Hair loss
Headache
Heat intolerance
Increased appetite
Increased pulse and blood pressure
Insomnia
Irritability
Menstrual irregularities
Nervousness
Palpitations
Tachycardia
Weight loss
References
Synthroid [package insert]. North Chicago, IL: AbbVie, 2018.
Jonklaas J, Bianco AC, Bauer AJ, et al. "Guidelines for the Treatment of Hypothyroidism: Prepared by the American Thyroid Association Task Force on Thyroid Hormone Replacement." Thyroid. 2014;24(12):1670-1751. doi:10.1089/thy.2014.0028
IMPORTANT NOTE: The above information is intended to increase awareness of health information and does not suggest treatment or diagnosis. This information is not a substitute for individual medical attention and should not be construed to indicate that use of the drug is safe, appropriate, or effective for you. See your health care professional for medical advice and treatment.
Product Code : 1602