Description
Adams Flea & Tick Shampoo Features and Uses: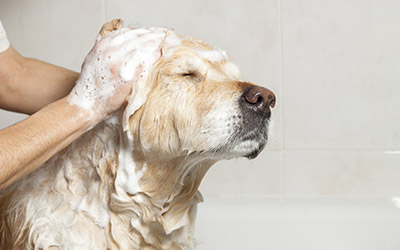 Adams Flea & Tick
Adams flea and tick shampoo is a specialized cleanser shampoo for cats and dogs. It acts as an insecticide, repellent, deodorant as well as a moisturizing cleanser. The product is a routine pesticide shampoo that is used mainly to kill lice, fleas, flea eggs, and flea larvae and ticks while restoring the natural luster and shine of your pet's coat. It is suitable for all cats, puppies, and dogs that are over 12 weeks of age.
You can buy Adams flea and tick shampoo from Canada Pharmacy for hassle-free and guaranteed delivery.
Directions
Soak your pet thoroughly with water. Begin by applying Adams flea and tick shampoo onto the animal's ear and head and lather up. Then move down to the neck and chest and gradually move further below, ensuring you cover the underbody areas and footpads. Fully lather up your pet and let the product stay for about 5 minutes before washing it off with plenty of warm water. Make sure to brush through the animal's coat to remove any dead insects.
Ingredients
Adam flea and tick shampoo contains chemicals such as Pyrethrins, S-Methoprene, Piperonyl Butoxide and a few others. As for natural products, it carries oatmeal and coconut extract, lanolin and Aloe Vera to keep the coat soft and manageable.
Cautions
The product contains harsh chemicals and needs to be dealt with care.
Not suitable for animals younger than 12 weeks.
Do not contaminate food, feedstuff or water with the product.
Make sure it doesn't enter into eyes or absorb into clothing.
In case it makes contact with the eyes, rinse thoroughly.
Change contaminated clothes immediately.
Can be dangerous if swallowed or absorbed through the skin.
Wash hands thoroughly after use.
Keep the product from getting into the animal's eyes or mouth.
Do not dispose off after use water into ponds or other water bodies as it can be toxic to aquatic organisms.
Side Effects
Sensitivities tend to occur in animals after using any kind of pesticide. If you notice any signs of sensitivity:
Bathe your pet again with mild soap and rinse with lots of water.
In case the signs continue, consult a veterinarian immediately.
IMPORTANT NOTE: The above information is intended to increase awareness of health information and does not suggest treatment or diagnosis. This information is not a substitute for individual medical attention and should not be construed to indicate that use of the drug is safe, appropriate, or effective for you. See your health care professional for medical advice and treatment.
Product Code : 9674