Description
Dog Anxiety Medicine Uses: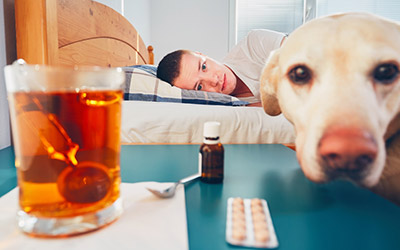 Anxiety Relief
Different dogs have different personalities, and they deal with every situation differently. They are mild-mannered and relaxed when they are comfortable, but when they are agitated, they might become rowdy, defensive, or anxious.
Dogs that suffer from behavioral issues often need medical treatment to help them live normal, healthy lives. These behavioral issues are usually caused by extreme fear and anxiety such as separation anxiety, noise phobias, and situational phobias. Such phobias can lead a dog to self-destructive behavior, or he may cause the destruction of property.
Anxiety relief medications are medicines formulated especially for dogs to help them relax. These medications soothe the dogs and are designed to keep them calm during stressful and intense events such as traveling, grooming, fireworks, thunderstorms, and vet visits. Dog anxiety medicine also helps to deal with separation anxiety.
You can buy anxiety relief medicine from Canada Pharmacy at reasonable rates.
Directions
Read the label carefully before giving your dog anxiety relief medicine. These tablets can be mixed with the food or given separately as chewable treats. During the treatment, monitor your dog closely to make sure that medicine is affecting him favorably.
Anxiety relief medicine can greatly benefit dogs, but you should take your dog to a vet before starting this treatment. The vet will perform a thorough check-up and a blood test if he deems necessary and then prescribes the medicine that is just right for him.
Ingredients
Active ingredients of dog anxiety relief medicine are:
GABA 100mg
L-Theanine 50mg
Chamomile 150mg
Thiamine 4mg
Passion Flower 100mg
Ginger Root 2.5mg
L-Tryptophan 33mg.
Cautions
The dog anxiety medicine should not be given to puppies that are younger than 14 weeks of age. Consult your veterinarian if there is no change in your dog's condition.
Keep in mind that this medicine is only for dog use. Keep it away from children.
Side Effects
Some common side effects of the anxiety relief medicine are:
Loss of appetite
Lethargy
Upset stomach
Sleepiness
Increased aggression
Diarrhea
Dry mouth
Vomiting
Increased thirst
Sedation
If your dog exhibits any of the above side effects take him to the vet immediately to get emergency medical attention.
IMPORTANT NOTE: The above information is intended to increase awareness of health information and does not suggest treatment or diagnosis. This information is not a substitute for individual medical attention and should not be construed to indicate that use of the drug is safe, appropriate, or effective for you. See your health care professional for medical advice and treatment.
Product Code : 10677