Description
Learn About Aristocort Cream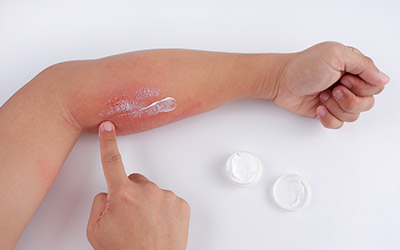 Chemical Name: TRIAMCINOLONE (trye-am-SIN-oh-lone)
Aristocort R Cream (Triamcinolone Acetonide)
Aristocort cream is used to cure a range of skin disorders. Triamcinolone Aristocort 0.1 decreases the inflammation, redness, and itching that may occur in these types of situations. Aristocort cream Triamcinolone belongs to the group of drugs named topical corticosteroids. The effectiveness depends on the form and the strength that you will be using.
Buy Aristocort Cream if you experience symptoms such as:
Eczema (extreme dryness)
Dermatitis
Rashes
Itching
Mouth sores
Crusting
Redness
Scaling
You can get Aristocort from Canada Pharmacy and be assured you're paying for a genuine product.
Directions
Once you are prescribed and buy Aristocort R Cream, then not that these directions apply to Aristocort cream strength of Aristocort 0.1
Use this cream just on the skin. Do not apply it on the groin, face or armpits if not suggested to do so by your physician.
Before applying the Aristocort cream, make sure the affected area is dry and clean. Smear a thin layer of the cream on the affected zone 2 to 4 times every day. Don't cover the area with a bandage or a wrap. If used areas that are covered with clothing, wear loose-fitting and breathable fabrics. Note that Aristocort cream should only be used for the prescribed condition. Do not apply it for longer than it is approved.
In case of missing a dose of this medicine, apply it as soon as you remember, but, if it is nearly time for your subsequent dosage, skip the unused dosage and continue regular dosing agenda.
Ingredients
The active ingredient in this cream is Triamcinolone Acetonide while the inactive ingredients include:
Benzyl alcohol
Emulsifying wax
Glycerin
Lactic acid
Sorbitol solution
Purified water
Cautions
Aristocort cream contains inactive ingredients that create and produce some allergic reactions.
Before you start using Aristocort cream, make you inform your doctor or pharmacist of any medical problems or allergic reactions you may have and any other medicines you are consuming. Furthermore, you may also seek consultation from your doctor, if you are pregnant or a nursing mother about the risks and benefits of this product. These aspects may affect how you should use the medicine.
Side Effects
Aristocort cream benefits most people with skin conditions, but it may cause undesirable side effects such as:
Itching
Dryness
Redness
Rashes
Blisters
Folliculitis
Burning
Hypertrichosis
Hypopigmentation
Retreating skin
Scaling
Crusting or flaking
Soreness
Swelling of skin
Pus created at the root of the hair
Pale skin
Increased hair growth on arms, legs, back, and forehead
IMPORTANT NOTE: The above information is intended to increase awareness of health information and does not suggest treatment or diagnosis. This information is not a substitute for individual medical attention and should not be construed to indicate that use of the drug is safe, appropriate, or effective for you. See your health care professional for medical advice and treatment.
Product Code : 6956