Description
Arthogen Plus for Dogs information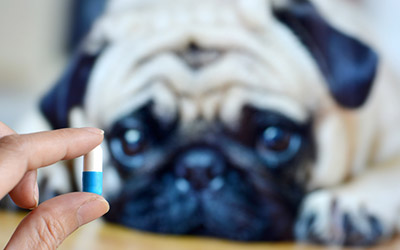 Arthogen
Arthogen for dogs is a canine joint supplement to help relieve joint pain and restore mobility in damaged joints. Glucosamine HCL and Chondroitin Sulfate that are vital substances in the formula, work together to relieve pain. They also partially restore movement by holding water and nutrients in the joints to allow the cartilage extra elasticity and flexibility.
Arthogen for dogs works to build up collagen and improve arthritis in senior dogs. Moreover, it adds lubrication and cushions the joints while promoting new cartilage growth and reducing inflammation. Arthogen for cats is also available to help ease their pain.
You can buy Arthogen for dogs at Canada Pharmacy for incredibly low prices. You can also be assured that you will only get the most genuine products delivered to your doorstep without any hassle.
Directions
Dosages vary according to the size and weight of the dogs.
For dogs that weigh less than 25 pounds, half a tablet daily is enough.
For dogs weighing between 25 and 49 pounds, one tablet daily.
Heavier dogs weighing between 50 and 100 pounds, should be given about 1 to 2 tablets daily
Dogs that weigh more than 100 pounds should be given two tablets daily.
The dosage period usually last for about 4-6 weeks. Make sure medications are taken regularly for best results. You can either feed the tablet to your dog as it is like a treat or crumble it up and add to dog food.
Ingredients
The main ingredients of Arthogen for dogs are:
Glucosamine HCl
Chondroitin sulfate
Vitamin C
It also contains other ingredients such as:
Maltodextrin
Cellulose
Beef flavor
Cheese flavor
Brewer's yeast
Stearic acid
Hydrogenated vegetable oil
Xanthan gum
Silicon dioxide.
Cautions
The medication is designed mainly for senior or larger dogs.
Do not give it to dogs smaller than 10 lbs.
Not suitable for human consumption.
Keep away from children.
Side Effects
There are no documented side effects. However, it contains shellfish, so consult a vet to see if your dog has shellfish allergies. Consult a doctor before giving the medication to a dog that has had urinary tract stones, diabetes or clotting disorders.
IMPORTANT NOTE: The above information is intended to increase awareness of health information and does not suggest treatment or diagnosis. This information is not a substitute for individual medical attention and should not be construed to indicate that use of the drug is safe, appropriate, or effective for your pet. See your veterinarian for medical advice and treatment for your pet if you have any concerns.
Product Code : 9543