Description
BREO ELLIPTA (Umeclidinium) is a prescription that contains a combination of medications and is prescribed to treat asthma and chronic obstructive pulmonary disease (COPD). Asthma and COPD are diseases of the lungs that make it difficult for a person to breathe. BREO ELLIPTA is a daily medication that helps to reduce some of the symptoms like shortness of breath, coughing, and wheezing.
Directions
The usual dosage is one inhalation once daily when using BREO ELLIPTA for cough and the reduction of other symptoms.
After inhalation, rinse the mouth with water and do not swallow. If the mouth is not rinsed after use, the risk of oropharyngeal candidiasis (oral thrush) may increase.
BREO ELLIPTA should be taken every day. It is not a rescue medication and should not be used for the relief of acute bronchospasm. In the case of acute symptoms like shortness of breath, an inhaled medication like albuterol should be used for relief instead of a maintenance inhaler like BREO ELLIPTA.
If used regularly, BREO ELLIPTA will reduce the severity of asthma and COPD symptoms and reduce the need for a rescue inhaler.
Fact Table

Formula

C51H62Cl2F3NO11S

License

EU EMA

Bioavailability

15.2%

Legal status

US: RX Only

Chemical Name

Fluticasone Furoate & Vilanterol Trifenatate

Elimination half-life

24 hours

Dosage (Strength)

184/22mcg(200/25mcg) (30 doses/inhaler), 92/22mcg(100/25mcg) (30 doses/inhaler)30 days 100-25mcg 30 (1 inhaler), INST 14days 100-25mcg 28 (1 inhaler)

Pregnancy

Consult a doctor

Brands

Breo Ellipta

Protein binding

93%

PubChem CID

71306415

MedlinePlus

a603017

ChEBI

75043

ATC code

R03AK10

DrugBank

DB08906, DB09082

KEGG

D10501

Routes of administration

Inhaled
Ingredients
Fluticasone furoate
Fluticasone is an inhaled corticosteroid medication (ICS). Corticosteroids are signaling molecules that reduce inflammation. During bronchospasms, the airways of the lungs are often swollen and inflamed, and regular usage of an ICS decreases this.
Vilanterol
Vilanterol is a long-acting beta2-agonist (LABA). Beta receptors are present on the surface of muscle cells in the lungs. By activating these receptors, vilanterol relaxes the muscles of the airway, making it easier to breathe.
Cautions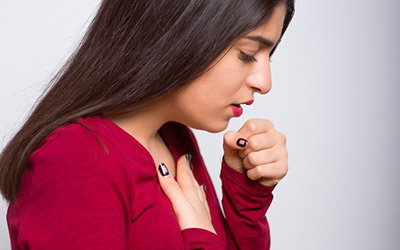 The usage of BREO ELLIPTA may increase the risk of pneumonia and other bronchial infections in certain patients.
BREO ELLIPTA may rarely cause a paradoxical reaction where the airways spasm, making it harder to breathe. If this happens while taking BREO ELLIPTA, stop the medication and tell your physician.
BREO ELLIPTA should be used with caution in patients with a history of cardiovascular disorders.
BREO ELLIPTA should be used with caution in diabetic patients or those with a history of hypokalemia.
Speak with your physician for a full list of warnings and precautions.
Side Effects
Common adverse effects of BREO ELLIPTA include:
Arthralgia
Back pain
Bronchitis
Cough
Dysphonia
Headache
Hypertension
Influenza
Nasopharyngitis
Oral candidiasis
Oropharyngeal pain
Pharyngitis
Pneumonia
Pyrexia
Sinusitis
Upper respiratory tract infection
References
IMPORTANT NOTE: The above information is intended to increase awareness of health information and does not suggest treatment or diagnosis. This information is not a substitute for individual medical attention and should not be construed to indicate that use of the drug is safe, appropriate, or effective for you. See your health care professional for medical advice and treatment.
Product Code : 13156