Description
Capstar Flea Pill Uses and Dose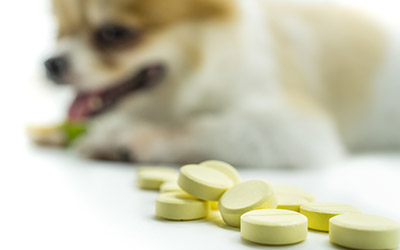 Fleas are pests and a nuisance for both pets and their owners. It is essential to get rid of flea infestation problem with a flea treatment that is not only effective but also works quickly. If you have both cats and dogs as pets, you might find it hard to find a treatment that can suit both cats and dogs.
Capstar Flea Control is a treatment that is effective for both cats and dogs. It is available in different formulations to treat cats and dogs that weigh more than 2 pounds and are at least one month old. These easy-to-administer tablets start killing fleas within half an hour of administration and eliminate up to 90% adult fleas in just a few hours thus providing fast relief to your pets. This means less discomfort and itchiness for your pet without the odors of a topical solution.
Usually, a single dose of Capstar flea treatment is enough to take care of the flea infestation, but you can administer it daily until all the fleas are eliminated.
You can buy Capstar for dogs from Canada Pharmacy at discounted rates.
Directions
Capstar tablets can be given to both dogs and cats. They are available in two convenient dosages: for a cat or a dog weighing 1 to 11 kg one tablet of 11.4 mg every day until no fleas are found on the host and one 57 mg tablets for dogs and cats weighing 11 to 57 kg until all the fleas vanish. The tablet can be given directly or mixed with your pet's food but make sure that your pet swallows the whole tablet.
Ingredients
The active ingredient in Capstar tablets is Nitenpyram.
Cautions
Capstar tablets should not be given to kittens and puppies younger than one month old. This medication is not for human consumption.
Side Effects
Regular use of Capstar may result in certain side effects while inappropriate use may result in adverse reactions. Different animals i.e. dogs and cats experience different side effects to this treatment. The most common side effects in dogs are:
Incoordination and trembling
Lethargy or hyperactivity
Nervousness
Seizures
Vomiting
Diarrhea
Itching
Excessive panting
Inappetence
Capstar for cats may produce the same side effects in cats as well as the following:
Fever
Salivation
Pupil dilation
Vocalization
Increased heart rate
IMPORTANT NOTE: The above information is intended to increase awareness of health information and does not suggest treatment or diagnosis. This information is not a substitute for individual medical attention and should not be construed to indicate that use of the drug is safe, appropriate, or effective for your pet. See your veterinarian for medical advice and treatment for your pet if you have any concerns.
Product Code : 8726