Description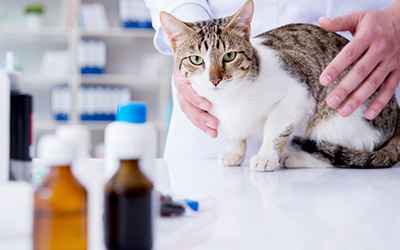 COMFORTIS (Spinosad) chewable tablets is a veterinary medicine that may be prescribed by or on the order of a licensed veterinarian. COMFORTIS chewable tablets may be used to treat and prevent flea infestations in dogs, puppies, cats, and kittens.
COMFORTIS (Spinosad) contains the insecticides spinosyn A and spinosyn D. Spinosyn molecules work by activating nicotinic acetylcholine receptors in fleas. By activating these receptors, COMFORTIS causes involuntary muscle contractions in insects which causes paralysis and death.
DOG: Weight (lbs)
DOG: Weight (kg) Indicated on Pack
CAT: Weight (lbs)
Spinosad (mg)
Sourced from UK
5 - 10lbs
2.3 - 4.5kg
4.1 - 6lbs
140
10.1 - 20lbs
3.9 - 6kg
6.1 - 12lbs
270
YES
20.1 - 40lbs
9.1 - 18kg
12.1 - 24lbs
560
40.1 - 60lbs
18.1 - 27kg
810
60.1 - 120lbs
23.2 - 36kg
1620
YES

Dogs: Recommended U.S. Minimum Dosage is 13.5mg/lb per month
Cats: Recommended U.S. Minimum dosage is 22.5mg/lb per month

Directions
Give COMFORTIS (Spinosad) to your animal orally once per month for as long as directed by your veterinarian.
COMFORTIS may be used on cats and kittens 14 weeks of age or older and 4.1 pounds or larger. COMFORTIS flea pill for dogs and puppies should be used on those 14 weeks of age or older and 5.0 pounds or larger.
Ingredients
The active ingredient in COMFORTIS is spinosad, which contains the factors spinosyn A and spinosyn D.
COMFORTIS contains the active ingredients cellulose, croscarmellose, hydroxypropyl cellulose, magnesium stearate, silicon dioxide, and water.
Cautions
COMFORTIS (Spinosad) chewable tablets are not for human use.
The safety of COMFORTIS in animals who are pregnant, breeding, or lactating has not been confirmed. Use COMFORTIS with caution in these animals.
COMFORTIS can cause seizures in dogs. Use it with caution in puppies and dogs with a prior history of epilepsy.
Side Effects
COMFORTIS (Spinosad) may cause different adverse reactions depending on whether it is taken by your dog or your cat.
Common adverse reactions in cats include:
Anorexia
Ataxia
Decreased appetite
Diarrhea
Hypersalivation
Lethargy
Pruritus
Vomiting
Weight loss
COMFORTIS for dogs may cause the following adverse effects:
Anorexia
Ataxia
Cough
Decreased activity
Decreased appetite
Diarrhea
Excessive salivation
Hyperactivity
Hypersalivation
Incoordination
Increased appetite
Increased thirst
Itching
Lethargy
Pruritus
Redness of the skin
Seizures
Trembling
Vocalization
Vomiting
Weight loss
References
Comfortis [package insert]. Greenfield, IN: Elanco; 2018.
Flea Infestations, Healthline, January 26th, 2016. Retrieved May 2020.
IMPORTANT NOTE: The above information is intended to increase awareness of health information and does not suggest treatment or diagnosis. This information is not a substitute for individual medical attention and should not be construed to indicate that use of the drug is safe, appropriate, or effective for you. See your health care professional for medical advice and treatment.
Product Code : 10283