Description
Info About Pet Tabs Plus Vitamin Supplement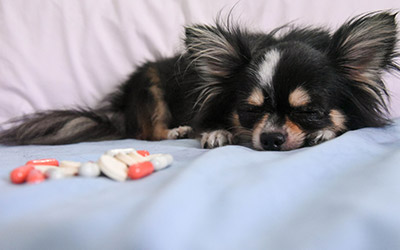 Cosevite Vitamin and Mineral Supplement
This particular medicine comes in a chewable form for dogs of all shapes and sizes. Moreover, this particular chewable medicine for dogs also contains calcium, Vitamin A, Vitamin D, and Vitamin E. Apart from these, this medicine also contains other minerals and substances. This combination of essential minerals, vitamins, and other substances leads to a lot of benefits for your dog. Some of these benefits include regulation of metabolism in your dogs, building up of essential enzymes in your dog's body, improved vision for your dog and also the development and reproduction process.
Apart from these, the minerals and vitamins found in this particular medicine also help your dog to maintain their shiny coat, helps in regulating calcium levels, develops muscles and bones, helps in blood functioning, acts as an anti-oxidant and many other such benefits that are essential for your dog's overall health.
However, be sure to use this particular medicine as it has been directed by the vet. You can easily purchase Cosevite vitamin and mineral supplement from Canada Pharmacy online.
Directions
Most importantly, you should store Cosevite vitamin and mineral supplement at room temperature away from the reach of both children and animals. It is recommended that you keep the bottle tightly closed and administer these chewable tablets to your dog according to the dosage as has been prescribed by your doctor.
You should give half of this chewable tablet to your dog if it weighs less than 10 pounds. 1 whole chewable tablet should be given to dogs who weigh 10 pounds or more.
According to your dog's weight and dosage prescribed, Cosevite should be given one time every day.
Ingredients
The active ingredients found in this particular medicine are Vitamin A, Vitamin D, and Vitamin E.
Cautions
It is only to be given to dogs.
Swollen face, difficulty breathing, diarrhea, hives or any such symptoms develop, immediately contact the vet.
The bottle has 1 non-toxic desiccant for preservation. Do not consume.
Cautions not listed may also exist.
Side Effects
Take note the following side effects:
Liver damage
Dehydration
Vomiting
Diarrhea
Nausea
Heartburn
Rash
Blood coagulation
Tiredness
Nerve damage
Drowsiness
IMPORTANT NOTE: The above information is intended to increase awareness of health information and does not suggest treatment or diagnosis. This information is not a substitute for individual medical attention and should not be construed to indicate that use of the drug is safe, appropriate, or effective for you. See your health care professional for medical advice and treatment.
Product Code : 11842