Description
Information About Curaflex 2 Bonelets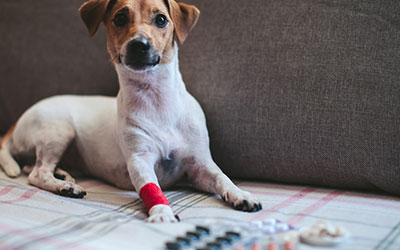 Curaflex 2 Bonelets for dogs
Curaflex 2 bonelets are supplements used in dogs to improve their joint health, whether it may be joint arthritis or an existing joint problem or some joint injury. Furthermore, Curaflex 2 also protects the joints from any future damage. Curaflex 2 is a combination of 2 naturally occurring ingredients, glucosamine hydrochloride and methylsulfonylmethane (MSM).
The former is a naturally occurring compound present in the body, and it maintains joint health and manages its repair when necessary. The latter is used as a sulfur source. Sulfur is found in dogs' bodies, and it aids in maintaining healthy, functioning cartilages.
Curaflex 2 is sold as chewable bone shaped tablets in pork flavor. Curaflex 2 acts by reducing the inflammation in the affected joints and alleviates joint pain. In addition, it promotes healthier joints, thus, facilitating greater ease of range of movement and mobility in the dog. Furthermore, it reduces the needs of NSAIDs.
This medicine can be easily purchased from Canada Pharmacy.
Directions
The dose of Curaflex 2 depends upon the weight of the dog. It is given for a period of 4 to 6 weeks. The basic recommended dose is as follows:
Under 15 lbs. – ½ chewable
16-30 lbs. – 1 chewable
31-60 lbs. – 2 chewable
61-100 lbs. – 3 chewable
100+ lbs. – 4 chewable
Dose of Curaflex 2 should be progressively lowered over time. But it may be increased anytime if your pet's health requires.
Ingredients
The active ingredients are:
Methylsulfonylmethane (MSM) 500mg
Glucosamine HCl 500mg
Cautions
Before starting the therapy with Curaflex 2 bonelets for your dogs, consult your vet. It is vital that the vet checks up your pet and ensures that there are no allergies related to the 2 main ingredients, glucosamine and MSM, present in Curaflex 2. Furthermore, if your dog is on any medication, consult your vet for any possible drug interactions that may occur with Curaflex 2.
Side Effects
Curaflex 2 boasts that no side effects occur with the usage of Curaflex 2 bonelets. But some mild side effects may be encountered, and the vet should be immediately consulted in such cases. These include:
Vomiting
Diarrhea or constipation
Allergic reaction
Loss of appetite
Fatigue
Insomnia
Excessive thirst
Excessive urination
Nausea
Heartburn
Increased intestinal gas
IMPORTANT NOTE: The above information is intended to increase awareness of health information and does not suggest treatment or diagnosis. This information is not a substitute for individual medical attention and should not be construed to indicate that use of the drug is safe, appropriate, or effective for you. See your health care professional for medical advice and treatment.
Product Code : 13010