Description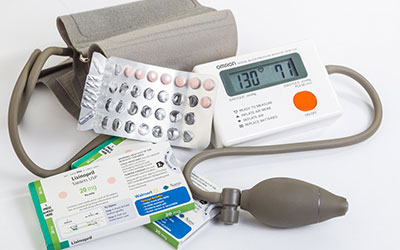 What is Diovan HCTZ used for?
Chemical Name: Valsartan (val-SAR-tan) and Hydrochlorothiazide (hye-droe-klor-oh-THYE-a-zide)
Diovan HCTZ (Valsartan + HCTZ)
One of the main ingredients in Diovan, which is Valsartan, is known to be an ARB blocker (angiotensin receptor blocker). The primary function of this ARB blocker is to relax the blood vessels, thus, in turn, allowing the blood to move freely. Apart from this, the other main ingredient, Hydrochlorothiazide also acts as a "water pill," hence, draining your body of excess salt and water by making you urinate more. Moreover, this particular medicine is also used for the treatment of high blood pressure. This medicine is known to lower down high blood pressure and thus, prevent the happening of strokes, heart attacks, and kidney problems.
You can easily go ahead and buy Diovan HCTZ at Canada Pharmacy online.
Directions
Carefully follow your doctor's prescribed dosage when taking this particular medicine.
Generally, this medicine is to be taken one time every day either with your meals or without them. You have to take this particular medicine orally by mouth. Also, if it Diovan HCTZ is known to make you urinate more, it is recommended that you take it 4 hours prior to going to bed.
If you are taking bile acid-binding resins such as cholestyramine, take Diovan HCTZ 4 to 6 hours after taking these bile acid-binding resins medicines.
Also, keep in mind the fact that the dosage is based on your condition. It would vary for all individuals. Hence, follow your doctor's dosage and before making any changes, consult with your doctor.
Ingredients
The two active ingredients found in Diovan HCTZ are Valsartan and HCTZ.
Cautions
Inform your doctor of the following when using Valsartan HCTZ
Any allergies to Diovan's ingredients or otherwise.
Of gout, kidney, liver disease, lupus, loss of excess body water and minerals.
Of pregnancy and breastfeeding.
Of using marijuana.
Do not drive or use machinery.
Do not indulge in activities that demand alertness.
Avoid alcoholic drinks.
Protect yourself from the sun.
Side Effects
Dizziness
Light-headedness
Dehydration
Feeling thirsty
Dry mouth
Muscle cramps
Weakness
Confusion
Fast, slow or irregular heartbeats
Fainting
Decreased vision
Pain in your eyes
High potassium blood level
Kidney problems
Allergic reaction
Rash
Itching
Swelling of face, tongue, and throat
Difficulty breathing
Cons not listed may also exist.
IMPORTANT NOTE: The above information is intended to increase awareness of health information and does not suggest treatment or diagnosis. This information is not a substitute for individual medical attention and should not be construed to indicate that use of the drug is safe, appropriate, or effective for you. See your health care professional for medical advice and treatment.
Product Code : 1481