Description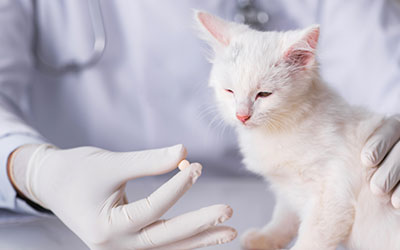 Drontal Allwormer Use
Drontal Cat Allwormer
Drontal Allwormer for cats provides protection to your pet against all type of intestinal worms such as roundworms, hookworms, and tapeworms. Drontal consists of two different drugs that are Praziquantel and Pyrantel. Praziquantel increases the permeability of the cells. Pyrantel is from the class of drugs called anthelmintics that works by paralyzing the worms and helping the body by removing them naturally through stool. It is a powerful and extremely effective product that can help control all kinds of intestinal worms in a single dose.
You can purchase Drontal online from Canada Pharmacy easily and get it delivered right to your doorstep. With Canada Pharmacy, you can be rest assured that you will only get genuine products and that too at the best possible rates.
Directions
Drontal Allwormer for kittens needs to be fed to all cats that weigh less than four kgs. Those that weigh over four kgs need to be given Drontal Allwormer for larger cats. The medicine needs to be fed to the pet through the mouth on an empty stomach. The dosages should be as follows:
For cats and kittens about 2 kg and below: ½ tablet
For cats between 2 and 4 kg: 1 tablet
For cats over 4 kg: 1 tablet per every 4 kg of bodyweight
The medicine may be given to young kittens, old animals, pregnant cats, as well as, show animals.
Ingredients
Drontal Allwormer for cats contains 20 mg Praziquantel as well as 80 mg Pyrantel as the Embonate.
Cautions
Administer your pet during and after feeding the medicine to see any signs of allergic reactions.
Only to be used for cats.
Not to be used for cats younger than two weeks.
Not suitable for human consumption.
Keep away from children and animals.
Does not control lungworm or heartworm.
Contact a doctor immediately in case of overdose.
If condition aggravates and there is a heavy infestation, contact a veterinarian immediately.
Side Effects
There are yet no known side effects of this product.
The condition may aggravate in case of overdose.
Make sure the animal is not allergic to any of the ingredients of the product.
IMPORTANT NOTE: The above information is intended to increase awareness of health information and does not suggest treatment or diagnosis. This information is not a substitute for individual medical attention and should not be construed to indicate that use of the drug is safe, appropriate, or effective for you. See your health care professional for medical advice and treatment.
Product Code : 5113