Description
Ergocalciferol - Vitamin D2 Benefits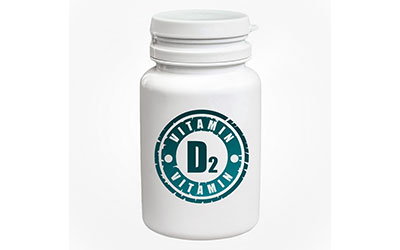 Vitamin D (either D2 or D3) is a fat-soluble vitamin that helps your body in the absorption of calcium and phosphorus. Vitamin, along with some other minerals and vitamins like calcium and phosphorus are essential for maintaining the strength of bones. It is also used to prevent, as well as, treat some disorders of bones like rickets and osteomalacia. Sunlight is a good source of Vitamin D.
You can easily buy Ergocalciferol online from Canada Pharmacy.
Directions
If you are uncertain about anything regarding your dose of Vitamin D2 capsule, consult your doctor before use.
Ergocalciferol capsules are to be taken orally. It would be best to take these capsules with a meal or right after it. However, it is not necessary to take these capsules with food only. They can be taken with or without food. When taken with food, the capsules will have the best chance of optimal absorption.
Follow the directions given on the packaging of the capsules. You also need to follow the directions provided by your pharmacist, if any directions are provided. Your dosage of Ergocalciferol Vitamin D2 capsules depends upon your amount of time of exposure to the sun, your age, diet and the response to treatment.
If you are taking the chewable tablet or wafers, chew the medication thoroughly before swallowing. Do not swallow whole wafers.
Ingredients
The main ingredient is Vitamin D2.
Cautions
Too much vitamin D can cause harmful high calcium levels. Tell your doctor right away if any of these signs of high vitamin D or calcium levels occur: nausea, vomiting, constipation, loss of appetite, increased thirst, increased urination, mental and mood changes, unusual tiredness.
A very serious allergic reaction to this drug is rare. However, get medical help right away if you notice any symptoms of a serious allergic reaction, including rash, itching, swelling (especially of the face, tongue, throat), severe dizziness, or trouble breathing.
Side Effects
Taking Vitamin D2 supplements usually does not have any side effects. But if you notice any side effect occurring once you have started taking these capsules, then consult your doctor as soon as possible.
If your doctor has directed you to take this medication, remember that he or she has judged that the benefit to you is greater than the risk of side effects. Many people using this medication do not have serious side effects.
Some common side effects include nausea and loss of appetite.
IMPORTANT NOTE: The above information is intended to increase awareness of health information and does not suggest treatment or diagnosis. This information is not a substitute for individual medical attention and should not be construed to indicate that use of the drug is safe, appropriate, or effective for you. See your health care professional for medical advice and treatment.
Product Code : 10743