Description
What Fasigyn Used For?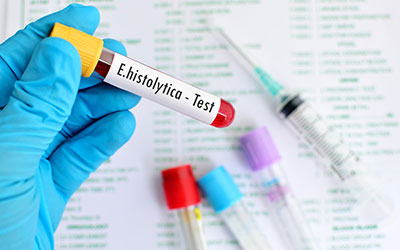 Fasigyn tablets are antibiotics used to treat infections that happen because of bacteria known as protozoa. This medicine enters the bacterial cells and disrupts their genetic material (DNA). This damages the bacterial DNA and stops the protozoa and the bacteria from building new DNA. This eventually kills the micro-organisms and clears up the infection.
Fasigyn tablets kill a wide range of bacteria collectively known as anaerobic bacteria. Such bacteria do not require oxygen to spread and grow. These bacteria can cause infections in various parts of the body such as gums, pelvic cavity, and gut. Tinidazole tablets are used to treat such infections along with soft tissue and skin infections like leg ulcers and pressure sores that become infected with these bacteria. It is also used to prevent infection after surgery especially, gynecological surgery, and gut surgery where anaerobic bacteria are abundant.
You can buy tinidazole 500mg online from Canada Pharmacy at the best possible rates and have it delivered to your doorstep.
Directions
The dosage of this medication depends on the severity and type of infection being treated. It can be taken with or without food. Drink plenty of water with the tablet and swallow it whole. Complete the course of this medicine even if you feel an improvement in your condition. Stopping the medicine early can be harmful to the patient. It increases the chances of the infection returning, or the bacteria may grow resistant to the medicine.
Ingredients
The active ingredient in Fasigyn tablets is tinidazole.
Cautions
Avoid alcohol with this medicine as it may cause nausea, hot flushes, palpations, abdominal cramps, and headache. This medicine should not be used by people with a history of blood disorders. Women who are breastfeeding or are in the first trimester of their pregnancy should not take this medicine without consulting the doctor.
Side Effects
Following are some of the known side effects associated with this medicine:
Metallic or bitter taste
Loss of appetite
Diarrhea, nausea, vomiting, and abdominal pain
Headache
Skin reactions like itching and rash
Feeling tired
Unsteady walk, shaky movement
Numbness, weakness
Sore tongue and mouth
Darkening of urine
Fever
Fits
Temporary reduction in white blood cells
IMPORTANT NOTE: The above information is intended to increase awareness of health information and does not suggest treatment or diagnosis. This information is not a substitute for individual medical attention and should not be construed to indicate that use of the drug is safe, appropriate, or effective for you. See your health care professional for medical advice and treatment.
Product Code : 9721