Description
Uses & Indications of Intal Inhaler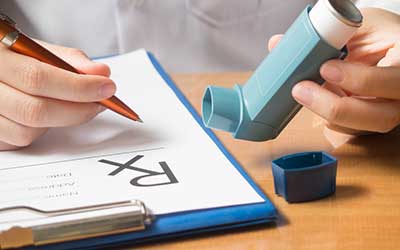 Intal Inhaler
Intal Inhaler is used to help prevent symptoms caused by asthma. This medication is used with other medications at least twice a week for mild persistent asthma.
Intal inhaler is also used to prevent wheezing and shortness of breath that you may experience when you exercise or caused by dry and polluted air containing allergens such as pollens.
If you control your breathing problems, you can avoid losing time from work and school. If you use Intal inhaler, you may not feel the need to use other asthma drugs such as corticosteroids.
The active ingredient in this inhaler is Cromolyn sodium; cromolyn belongs to a class of medication known as mast cell stabiliser, and it inhibits the release of a natural chemical that can swell the airways and lead to breathing problems.
You can purchase Intal Inhaler from Canada Pharmacy.
Directions
Intal inhaler is to be used with special breathing equipment such as a power nebuliser, and you can ask your doctor or pharmacist about the proper usage of this medication.

Make sure that you understand how to use the machine properly and how to clean it to prevent any infection. A parent should supervise a child if they are using such a machine and in case of any questions, don't be afraid to talk to your physician or healthcare professional.

Before using this product, make sure that you check for particles or discoloration. And in case either is present, do not use this solution.

Inhale this medication through your mouth and usually 4 times or as advised by your doctor. Use it regularly to get the most from this medication. Intal inhaler works best when used at evenly spaced intervals.
Ingredients
The main ingredient is Cromolyn sodium
Cautions
Let your physician know about the medical treatments and medicines you are using.
This medication might increase your blood pressure so check your blood pressure regularly.
Let your doctor know if you are allergic to cromolyn before using it.
Side Effects
Some of the common side effects of Intal inhaler include stuffy nose, sneezing, headache, tearing, and coughing. If any of these effects become persistent or start to worsen, talk to your doctor immediately. Some unlikely but serious side effects of this drug include:
Dizziness
Frequent and painful urination
Joint swelling and pain
Swollen glands
Muscle weakness
Heartburn
A very serious allergic reaction to this drug is very rare; however, if you experience it, let your physician know immediately.
IMPORTANT NOTE: The above information is intended to increase awareness of health information and does not suggest treatment or diagnosis. This information is not a substitute for individual medical attention and should not be construed to indicate that use of the drug is safe, appropriate, or effective for you. See your health care professional for medical advice and treatment.
Product Code : 12452