Description
What is hyoscyamine sulfate 0.125 mg used for?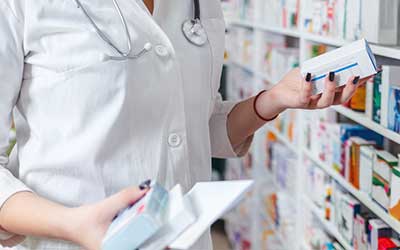 Levsin (Hyoscyamine)
Levsin tablets comprise Hyoscyamine 0.125 mg, formulated for sublingual administration.
Hyoscyamine is used for a diversity of stomach/intestinal problems such as cramps and irritable bowel syndrome. It is also used for other conditions such as bladder and bowel control troubles, camping pain affected by kidney stones and gallstones, and Parkinson's disease. In addition, it is used for the reduction of side effects of definite medications (drugs used to treat myasthenia gravis) and insecticides.
This treatment works by decreasing acid production in the gastrointestinal system, decelerating the natural motion of gut, and relaxing the muscles in several organs. (e.g. stomach, intestines, kidney). Hyoscyamine also minimizes the amount of definite body fluids (e.g. saliva, sweat). This treatment belongs to a class of drugs known as anticholinergic/antispasmodics.
You can buy Levsin from Canada Pharmacy at reasonable rates.
Directions
Dosage may be used according to the situations and acuteness of symptoms. The tablets may be used sublingually, orally or chewed.
Adults and pediatric patients 12 or above: 1 or 2 tablets every four hours or as needed.
Pediatric patients 2 to fewer than 12 years of age: ½ to 1 tablet every four hours or as needed.
Ingredients
Levsin (Hyoscyamine sulfate tablets USP) contains 0.125 mg hyoscyamine sulfate formulated for oral administration. It is one of the key components of belladonna alkaloids.
Cautions
Before taking hyoscyamine, communicate with your doctor or pharmacist if you are allergic to it, or to atropine; or if you have any further problem related to allergies. It may also contain inactive ingredients that root other harms or allergic problems.

Contact lenses wearers may need to use wetting eye drops since this medication can lead to dryness.

Avoid flattering overheated in hot weather, saunas, and during exercise or other energetic activity.
Side Effects
Side effects of Levsin include:
Fainting
Unclear vision
Dehydrated mouth
Vision problems
Insomnia
Constipation
Flushing
Decreased sweating
If any of these effects continue or get worse, inform your doctor or pharmacist promptly.
This drug does not cause a severe allergic reaction. But seek instant medical attention if it occurs. Symptoms of a severe allergic reaction may include rash, itching or swelling, and trouble breathing.
IMPORTANT NOTE: The above information is intended to increase awareness of health information and does not suggest treatment or diagnosis. This information is not a substitute for individual medical attention and should not be construed to indicate that use of the drug is safe, appropriate, or effective for you. See your health care professional for medical advice and treatment.
Product Code : 12155