Description
Nicorette Invisi Patch Uses and Indications: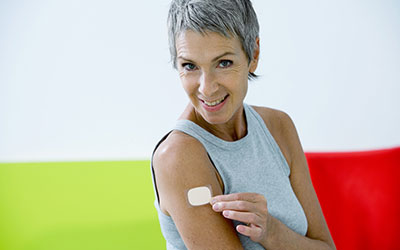 Nicorette Invisi Patches
The Nicorette Invisi Patch is a discreet, easy-to-use, solution to help you deal with the cravings and withdrawal symptoms associated with quitting smoking. It may be suitable for you if you are a regular smoker who smokes throughout the day. The semi-transparent patch helps you to quit by delivering a continuous, controlled dose of nicotine into your body to help relieve cravings and withdrawal symptoms. It comes in 10mg, 15mg or 25mg to let you choose the right strength based on how much you smoke.
These patches are available for purchase online at Canada Pharmacy.
Directions
To apply the patch, choose a completely clean, dry area of hairless skin on the front or side of the chest, upper arm, or hip. Apply to a new part of your body each day. After 2 to 3 days, you may apply to a previous spot if there's no sign of irritation. It is important that you do not use the same area for two consecutive days to help avoid irritating that site. The patch should be removed before you go to bed as Nicorette Invisi patch is not designed to be worn when you go to sleep at night or for more than 16 hours each day. Make sure that you dispose of the used patch correctly.
Ingredients
The active ingredient is nicotine. Other ingredients are: Medium-chain Triglycerides, Basic Butylated Methacrylate Copolymer, Polyethylenterephthalata Film (PET), Acrylic Adhesive Solution, Potassium Hydroxide, Croscarmellose Sodium, Aluminium Acetylacetonate, Siliconised PET Release Liner with Aluminised Single Side, Printing Inks
Cautions
Do not use the patch if you are allergic to any of the ingredients. Let your doctor know of your medical history to know if the usage of the patch is safe for you. If you are breastfeeding or pregnant, ask the doctor for advice as nicotine shouldn't reach the baby.
Side Effects
The side effects of the patch include:
A mild skin reaction
Itching
Headache
Dizziness
Feeling sick (nausea)
Sickness (vomiting)
Hives
Rash
Some rare and serious side effects may include:
Tingling or numbness of the hands and feet
Allergic reaction
High blood pressure
Excessive sweating
Aching muscles
Muscle tenderness or weakness
Chest discomfort and pain
Feeling unwell or tired
IMPORTANT NOTE: The above information is intended to increase awareness of health information and does not suggest treatment or diagnosis. This information is not a substitute for individual medical attention and should not be construed to indicate that use of the drug is safe, appropriate, or effective for you. See your health care professional for medical advice and treatment.
Product Code : 12778