Description
Using Nicotine Nasal Spray to Quit Smoking: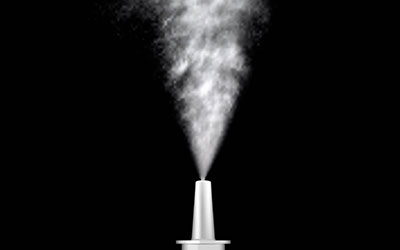 Nicorette Nasal Spray is indicated for the relief of nicotine withdrawal symptoms as an aid to smoking cessation in adults and children over 12 years of age. It is also indicated in pregnant and lactating women (see section 4.6). If possible, Nicorette Nasal Spray should be used in conjunction with a behavioural support programme. When you stop smoking, your body misses the nicotine that you have been absorbing. You may experience unpleasant feelings and a strong desire to smoke (craving). This indicates that you were dependent on nicotine. When you spray NICORETTE® Nasal Spray into your nose, nicotine passes rapidly into your body through the lining of your nose. The nicotine released is sufficient to relieve the unpleasant nicotine withdrawal symptoms. It will also help to stop your craving to smoke but will not give you the "buzz" you get from smoking a cigarette. The benefits of stopping smoking far outweigh any potential risk from using nicotine from NRT. It is the toxins in cigarette smoke such as tar, lead, cyanide and ammonia that cause smoking related disease and death, not the nicotine.
Ingredients
Disodium phosphate dodecahydrate Sodium dihydrogen phosphate dihydrate Anhydrous citric acid Sodium chloride Polysorbate 80 NNS aroma DZ-03226 (B-ionone) Methyl parahyroxybenzoate Propyl parahydroxybenzoate Disodium edetate Purified water
Cautions
The nasal spray should not be used whilst the user is driving or operating machinery as sneezing and watering eyes could contribute to accidents. No clinically relevant interactions between nicotine replacement therapy and other drugs has definitely been established. However nicotine may possibly enhance the haemodynamic effects of adenosine i.e. increase in blood pressure and heart rate and also increase pain response (angina-pectoris type chest pain) provoked by adenosine administration.
Side Effects
Possible side-effects

Like all medicines, NICORETTE® Nasal Spray can have side-effects.

As many of the effects are due to nicotine, they can also occur when nicotine is obtained by smoking.

Effects related to stopping smoking (nicotine withdrawal) You may experience unwanted effects because by stopping smoking you have reduced the amount of nicotine you are taking. You may also experience these effects if you under use NICORETTE® Nasal Spray before you are ready to reduce your nicotine intake.
These effects include:
irritability or aggression
feeling low
anxiety
restlessness
poor concentration
increased appetite or weight gain
urges to smoke (craving)
night time awakening or sleep disturbance
lowering of heart rate
Effects of too much nicotine
You may also get these effects if you are not used to inhaling tobacco smoke.
These effects include:
feeling faint
feeling sick (nausea)
headache
Side-effects of nicorette® Nasal Spray During the first 2 days of treatment, many people experience nasal irritation such as sneezing, running nose, watering eyes and cough. If you continue to use the nasal spray, the severity of these effects and how often they occur will reduce. If you notice any of the following; fast heart rate/ beat, abnormal beating of the heart, chest palpitations, shortness of breath, or allergic reactions (swelling of the face, mouth, lips, throat and tongue, itching of the skin, swelling of the skin, ulceration and inflammation of the lining of the mouth, difficulty in breathing and dizziness) stop taking NICORETTE® Nasal Spray and contact a doctor immediately.
Very common side-effects:
(may affect more than 1 in 10 people): - runny nose
Common side-effects: (may affect up to 1 in 10 people):
headache
dizziness
tingling or numbness of the hands and feet
cough
nose bleeds
throat irritation
feeling sick (nausea)
sickness (vomiting)
excessive sweating
itching
rash
chest discomfort and pain
Uncommon side-effects:
(may affect up to 1 in 100 people):)
abnormal dream)
allergic reactions (hypersensitivity))
sudden reddening of the face and/or neck)
high blood pressure)
tiredness (fatigue))
general feeling of discomfort or being unwell or out of sorts (malaise)
Other side-effects can include:
watery eyes
fast heart rate/beat
nasal discomfort
throat discomfort and pain
sneezing
stomach discomfort
redness of the skin
hives (urticaria)
unusual weakness
When you stop smoking you may also develop mouth ulcers. The reason why this happens is unknown.
If you get any side-effects, talk to your doctor, pharmacist or nurse. This includes any possible side-effects not listed in this leaflet. You can also report side-effects directly via the Yellow Card Scheme at: www.mhra.gov.uk/yellowcard By reporting side-effects you can help provide more information on the safety of this medicine.
IMPORTANT NOTE: The above information is intended to increase awareness of health information and does not suggest treatment or diagnosis. This information is not a substitute for individual medical attention and should not be construed to indicate that use of the drug is safe, appropriate, or effective for you. See your health care professional for medical advice and treatment.
Product Code : 13208