Description
Nolvadent for dogs & Cats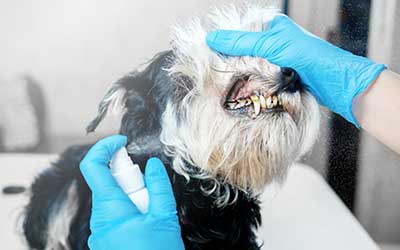 Nolvadent
Nolvadent for dogs is used to maintain oral health and fresh breath in your pet. It helps in maintaining your pet's oral hygiene and is used as an oral rinse. It can also be used with a toothbrush to remove debris and food particles from your pet's teeth and gum.
Nolvadent oral cleansing solution destroys the bacteria from your dog's mouth that may form plague. It also has a flavored peppermint base, making your dog have fresh breath. You can purchase this medicine online from Canada Pharmacy.
Directions
You can use Nolvadent for dogs once or twice a day as directed by your vet. Make sure to hold your pets head steady with one hand and gently insert the applicator into the corner of the dog's mouth.
Apply 2 to 4 mL of Nolvadent between your dog's teeth and side of its mouth. Once you have applied the drug, make sure to massage the mouth over the teeth for 30 seconds to 2 minutes to allow the medication to come in contact with the surface of the teeth.
Repeat this procedure on the opposite side of the mouth so that both sides of your pet's teeth are wet. Make sure that your pet does not rinse after the medication has been applied.
Ingredients
The ingredients include Chlorhexidine acetate, Special surfactant, peppermint flavored base, FD & C Red 40 & Red 33, & 6% ethyl alcohol by volume,
Cautions
This medication is for oral use only.
Nolvadent should not be used as a substitute for sound vet dental treatment.
Use this product only when advised by your pet's doctor.
Do not use alongside another animal dentifrices or toothpastes.
Do not contaminate the dispenser bottle with a toothbrush or an organic material.
Protect this product from freezing and store at room temperature.
Side Effects
There are no side effects reported for Nolvadent for dogs yet; however, there are some reports of straining of teeth after prolonged usage of rinses that contain chlorhexidine. Building up of strain can be prevented by applying the solution with a toothbrush.
Do no use this product externally and keep it away from the eyes. If this drug has been used in excess, contact your vet immediately and take your dog to the emergency room.
IMPORTANT NOTE: The above information is intended to increase awareness of health information and does not suggest treatment or diagnosis. This information is not a substitute for individual medical attention and should not be construed to indicate that use of the drug is safe, appropriate, or effective for you. See your health care professional for medical advice and treatment.
Product Code : 13042