Description
Nolvasan Otic Cleansing Solution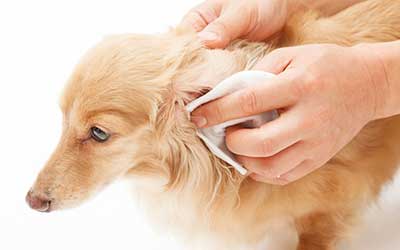 Nolvasan Otic Cleansing Solution
Nolvasan Otic cleansing solution is an effective antimicrobial ointment that helps to prevent any bacteria from being built up in your pet's wound. This drug also ensures that your pet does not develop any infections. This medication is also used for general cleaning of ears for dogs and cats to remove any debris.
If your pet sustains any wound or injury that leads to a cut, then you should treat him with Nolvasan Otic cleansing solution right away. If your pet's open wound is left untreated, infections from this open wound may spread to other parts of your pet's body and affect his health.
This drug contains chlorhexidine acetate which is a powerful antimicrobial agent, and it prevents different bacteria from entering the wound and leading to a life-threatening infection.
You can grab Nolvasan Otic cleansing solution from Canada Pharmacy at the best price. Your order will be delivered right to your doorstep.
Directions
Before using Nolvasan Otic cleansing solution on your pet's wound, it is advised that you wash its wound properly and make sure that it is clean. You must clean out any debris or dirt that may have collected beforehand.
Wash the wound with warm water and make sure that the bleeding has stopped; then apply a small amount of Nolvasan solution to the opening and cover it with a medical adhesive. 
For cleaning of air, apply it liberally in the ear canal and massage the base of the ear canal. Repeat one to three times a day.
Ingredients
The active ingredient is Chlorhexidine diacetate 2%.
Cautions
Avoid contact with eyes and the mucous membrane; if contact is made, then flush it promptly and wash with clean water.
Hypersensitivity to this drug is very rare; however, if a reaction does occur, discontinue use immediately.
In case of deep or puncture wounds or a serious burn, avoid using Nolvasan Otic cleansing solution and take your pet to the veterinary right away.
Side Effects
There are no side effects reported for this medication yet; however, there are some reports of redness, irritation, and persistent swelling. If swelling starts to increase, contact your vet immediately.
Keep it away from the eyes. If this drug has been used excessively, contact your vet immediately.
IMPORTANT NOTE: The above information is intended to increase awareness of health information and does not suggest treatment or diagnosis. This information is not a substitute for individual medical attention and should not be construed to indicate that use of the drug is safe, appropriate, or effective for you. See your health care professional for medical advice and treatment.
Product Code : 12745