Description
Nu Cat Vitamins Uses & Indication: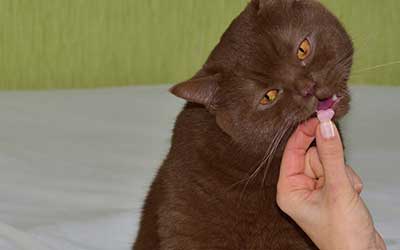 Nu-Cat Vitamins
Nu-Cat vitamins are chewable multi-vitamins for cats that they can eat without a hassle. It is made with over 20 ingredients and is specifically formulated to help maintain your cat's physical and mental well-being.
This multi-vitamin tablet helps provide your cat with a daily dose of all the nutrients it needs for health. These chewable tablets are great for cats of all ages and with ingredients including fish omega oils and taurine; these tablets will are essential for maintaining a healthy vision for your cat.
These chewable tablets even contain biotin that helps in promoting skin health and also makes sure that your cat's fur and coat stays full and luxurious. The advanced formula in these tablets also supports the cognitive, digestive, cardiovascular, and nervous systems for your cat's overall physical well-being.
These multi-vitamins can be easily purchased online from Canada Pharmacy.
Directions
Nu-Cat vitamins are to be taken orally with food as directed by your vet. It can be given twice a day, in the morning and evening, as advised by your doctor.
You can crush the vitamin tablet and mix it with your pet's food to avoid forcing it down its mouth.
Use this drug regularly to get more benefits. Your pet may consider this drug as a treat; however, make sure not to overdose your pet.
In case of accidental overdose, contact a health professional immediately.
Ingredients
The ingredients in Nu-Cat vitamins include:
Brewers dried yeast
Silicon dioxide
Microcrystalline cellulose
Dicalcium phosphate
Fish oil
Calcium carbonate
Stearic acid
Taurine
Potassium chloride
l-lysine
l-arginine
Vitamin E supplement
Safflower oil
It also has sodium selenite, ferrous sulfate, zinc sulfate, ascorbic acid, niacinamide, dl-methionine, magnesium oxide, inositol, vitamin A supplement, thiamine mononitrate, d-calcium, pantothenate, riboflavin, pyridoxine hydrochloride, vitamin D3 supplement, mixed tocopherols (a preservative), biotin, manganese sulfate, copper sulfate, vitamin B12 supplement, folic acid, and potassium iodide.
Cautions
This drug is for animal use only and make sure that you keep it out of reach of children and other animals. Store in a cool and dry place and use this drug for cats only.
Also, let your doctor know if your pet is using any other medications before using Nu-Cat vitamins.
Side Effects
There are no side effects reported for this medication yet.
Keep it away from the eyes. If this drug has been given in excess, contact your veterinarian immediately.
IMPORTANT NOTE: The above information is intended to increase awareness of health information and does not suggest treatment or diagnosis. This information is not a substitute for individual medical attention and should not be construed to indicate that use of the drug is safe, appropriate, or effective for you. See your health care professional for medical advice and treatment.
Product Code : 12909