Description
What is Patanase nasal spray used for?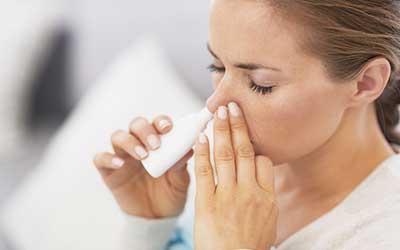 Patanase Nasal Spray (Olopatadine)
Patanase nasal spray is an antihistamine and is used to relieve symptoms of allergies. When your body comes into contact with things that trigger your allergies, your body starts making chemicals known as histamines. These chemicals then cause the tissues in your nose area to swell up which leads to a stuffy, runny, and itchy nose. Antihistamines help in reducing these histamines and block them. There are different types of antihistamines available that you can use to treat allergic reactions. However, Patanase nasal spray is considered by many as the most suitable form of antihistamine for nasal issues caused by seasonal allergies.
You can purchase Patanase nasal spray online from Canada Pharmacy at the best price.
Directions
You must prime the spray pump before you use the bottle for the first time. Avoid your eyes and don't spray directly onto the nasal septum. Use the spray twice a day or use it as directed by your doctor. Keep track of the number of bottles you use, including the test sprays that you use for priming the bottle. Once you've used the labeled number of sprays mentioned on the package, discard all the bottles. This way you'll ensure that you receive the right amount of drug with each spray.
This medication must not be given to kids under two years of age until and unless you are directed by the doctor to do so.
Ingredients
Patanase nasal spray's active ingredient is olopatadine base in a nonsterile aqueous solution that has a pH of approximately 3.7.
Cautions
To ensure your safety, inform your doctor if you have any of the conditions listed:
If you are pregnant, planning to become pregnant, or are breastfeeding
Have any other allergies
This medication makes you drowsy, and using marijuana or drinking alcohol may increase your drowsiness. Avoid drinking and taking marijuana along with this medication, and make sure to avoid driving and doing activities which require you to be alert all the time.
Side Effects
Seek medical help if you have any signs of an allergic reaction to Patanase nasal spray. Some side effects include:
Bitter taste in the mouth
Nosebleeds
Soreness in nose
Drowsiness
Swelling of face, throat, or tongue
Trouble in breathing
Rashes
This list does not mention all the possible side effects.
IMPORTANT NOTE: The above information is intended to increase awareness of health information and does not suggest treatment or diagnosis. This information is not a substitute for individual medical attention and should not be construed to indicate that use of the drug is safe, appropriate, or effective for you. See your health care professional for medical advice and treatment.
Product Code : 12108