Description
PhytoVet CK Antiseptic Shampoo Uses: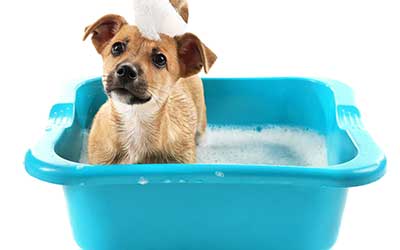 PhytoVet CK Antiseptic Shampoo
PhytoVet CK Antiseptic Shampoo is a scented formula designed to clean and deodorize a pet animal's coat while treating skin infections that are responsive to ketoconazole and chlorhexidine. This antiseptic shampoo is recommended for deep cleansing and deodorizing horses, cats and dogs. It contains phytosphingosine which is an exclusive pro-ceramide that helps support a healthy skin barrier for optimum therapeutic effect.
This antifungal and antibacterial shampoo is available in a 16 oz. bottle. It is a soap-free formula with a pleasant fragrance. It has three active ingredients that provide comprehensive and complete protection against skin infections. Chlorhexidine is a cleanser and an antiseptic. Ketoconazole is an antifungal component that prevents the growth of fungi that cause infections. Phytosphingosine is a pro-ceramide that has anti-inflammatory benefits. It also restores the natural dermal lipid barrier of the animal's skin. This prevents the skin from damage and keeps the animal safe from skin disorders in the long run.
You can purchase PhytoVet CK Antiseptic shampoo online from Canada Pharmacy at the best rate.
Directions
Wet the animal skin with warm water. Pour a little shampoo in your hand and apply it to the animal's coat. Gently massage the shampoo into the wet hair. Leave the shampoo on the hair coat for at least 5 to 10 minutes before rinsing it thoroughly with warm, clean water. Repeat the process if needed. You can apply this shampoo 3 times a week or as instructed by your veterinarian.
Ingredients
The active ingredients in this shampoo are Chlorhexidine Gluconate 2%, Phytosphingosine-salicyloyl 0.05%, and Ketoconazole 1%.
Cautions
This shampoo is only for external use on cats, dogs, and horses. Make sure that it does not come into contact with the eyes. If this shampoo goes into the eyes of the animal, rinse thoroughly and contact your veterinarian. It is best to keep this shampoo out of range of children. Do not swallow. This shampoo is for external use only. Make sure to wash your hands after use. If the animal develops skin irritation, immediately stop using this product and consult your veterinarian.
Side Effects
The PhytoVet CK Antiseptic Shampoo does not have any reported side effects.
IMPORTANT NOTE: The above information is intended to increase awareness of health information and does not suggest treatment or diagnosis. This information is not a substitute for individual medical attention and should not be construed to indicate that use of the drug is safe, appropriate, or effective for you. See your health care professional for medical advice and treatment.
Product Code : 12456