Description
Proair HFA Inhaler Uses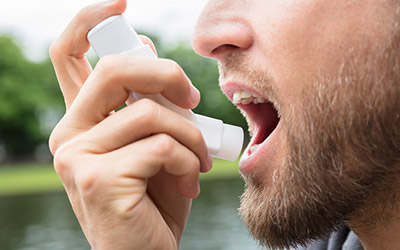 Chemical Name ALBUTEROL (al-BYOO-ter-ole)

ProAir HFA is also known as Albuterol Sulfate Inhaler. ProAir HFA inhaler is used to prevent and treat wheezing and shortness of breath that can be caused due to asthma or chronic obstructive pulmonary disease.
This drug is used to prevent asthma that can be bought on from exercise. ProAir HFA inhaler is a quick relief drug and belongs to a class of drugs known as bronchodilators. This medication works inside the airways by opening passages and relaxing the muscles.
You can use a ProAir HFA coupon and purchase ProAir HFA Inhaler from Canada Pharmacy.
Directions
Make sure that you read the patient information leaflet available from your pharmacist before you start taking ProAir HFA.
Shake the canister very well before using. Follow the instructions for the test. Spray very carefully if you are using this inhaler for the first time or if you have not used it for 2 weeks or more or in case you dropped the inhaler.
Avoid spraying this medication in your eyes. Inhale this medication as directed by your physician and use it every 4 to 6 hours when needed.
The dosage of this drug depends on the severity of your medical condition and your response to treatment. Do not increase the prescribed dose without your physician's approval. Using too much of this drug can increase your risk of side effects that can even be fatal.
Ingredients
PROAIR HFA (albuterol sulfate) Inhalation Aerosol has albuterol sulfate, a racemic salt of albuterol.
Cautions
Do let your physician know about the medical treatments and medicines you are using.
Let your doctor know if you have any allergies before using it especially albuterol sulfate.
Tell your doctor about the medical history of the family and your medical history.
Side Effects
Some common side effects of ProAir HFA are:
Nervousness
Shaking (tremor)
Headache
Mouth or throat dryness or irritation
Changes in taste
Cough
Nausea
Dizziness
Keep in mind that your doctor has prescribed you this medication because its benefits to you are greater than the risk of side effects. Many people who use this medication do not have serious side effects.
However, if you undergo any serious side effects or your condition becomes worse, then visit your doctor immediately.
IMPORTANT NOTE: The above information is intended to increase awareness of health information and does not suggest treatment or diagnosis. This information is not a substitute for individual medical attention and should not be construed to indicate that use of the drug is safe, appropriate, or effective for you. See your health care professional for medical advice and treatment.
Product Code : 9495