Description
Propecia Pro Pak Men Hair Loss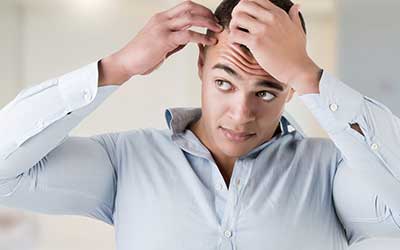 Propecia Pro Pak medication is used to treat baldness in men. It treats the conditions of androgenetic alopecia in men. It must only be used by men. This drug regrows the hair on the head of men by decreasing the amount of natural body hormone DHT in the body which leads to lesser hair fall and regrowth of hair. It is also used to treat the bald patches on the male crown (head region).
Propecia Pro Pak is available easily online at Canada Pharmacy. Not only can you enjoy reasonable rates by ordering from Canada Pharmacy, but you can also get your products delivered to your doorsteps. Quality of the product is assured.
Directions
Consult your doctor before use. Thoroughly read the instructions leaflet provided to you by your pharmacist.
According to the directions of your physician, take this medication with or without food. It is usually taken only once daily but, you must consult your doctor and take your dosage according to his/her prescription provided. The use of this medication should be continued for as long as one wants the gained hair quantity to stay. Once you stop taking this medication, you will lose all the quantity you regained while taking this medication in about a year.
Ingredients
The active ingredient is Finasteride.
Inactive ingredients:
Lactose monohydrate
Microcrystalline cellulose
Pregelatinized starch
Sodium Starch glycolate
Hydroxypropyl methylcellulose
Hydroxypropyl cellulose LF
Titanium oxide
Cautions
This medication must not be used by women and children.
This medication should not be taken by those who have prostate cancer. It might increase the risks or worsen their cancer conditions.
A crushed or broken tablet should not be handled by a woman who is pregnant or is planning to become pregnant.
Before using this medication, tell your doctor or pharmacist your medical history, especially of: liver disease, prostate cancer, infections, and urinary problems.
Keep away from breastfeeding women and pregnant women.
Side Effects
This medication can lead to:
Decreased sexual urges
Decreased amount of semen released during sex
Serious side effects include:
Lump in the breast
Nipple discharge
Breast enlargement/tenderness/pain
Pain in the testicles
Inability to urinate
Rash
Itching/swelling (especially of the face/tongue/throat)
Severe dizziness
Trouble breathing
IMPORTANT NOTE: The above information is intended to increase awareness of health information and does not suggest treatment or diagnosis. This information is not a substitute for individual medical attention and should not be construed to indicate that use of the drug is safe, appropriate, or effective for you. See your health care professional for medical advice and treatment.
Product Code : 11421