Description
Qvar Easi Breathe Inhaler Uses: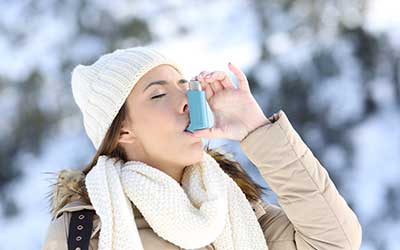 Qavr Easi-Breathe also known as Beclometasone Dipropionate belongs to the group of medication known as corticosteroids. Corticosteroids are steroids that are used for treating patients with asthma. These anti-inflammatory drugs work by reducing the inflammation and swelling of airways and reduce the mucus production as well. This means that the airways are less inflamed and are less likely to react to any asthma trigger giving patients better control over their condition.
Qavr Easi Breathe is used for preventing mild, moderate, and severe symptoms of asthma. For people who require regular treatment for their asthma, this medication helps in making breathing easier. This medication works deep into the lungs and makes it easier to breathe. It is a prevention medication. Therefore, it needs to be taken on a daily basis, even if there are no symptoms. It is available for purchase online at Canada Pharmacy. You can have your order delivered directly to your doorstep without hassle.
Directions
You must take this medication exactly how it is prescribed to you. The usual dosage is:
For mild asthma 1 to 2 puffs twice a day
For moderate asthma 2 to 4 puffs a day
For severe asthma 4 to 8 puffs a day
Your doctor will prescribe you the dosage considering your symptoms. Adults and children above 12 years can use this medication. After using this medication rinse your mouth properly.
The medication is inhaled through the mouth into the lungs. You have to first prime the inhaler before using it for the first time, or if you're using it for an extended period. Fire two shots into the air before you use it. Remove the cap and place the inhaler mouthpiece in the mouth and close your lips around it. Take slow and deep breaths through the mouthpiece. Do not stop breathing when the dose is delivered. This ensures that you receive the majority of the medicine. Clean the mouthpiece every week with clean, dry tissue or a cloth. Do not wash the inhaler, or immerse it in the water at any cost.
Ingredients
The active ingredient present in this medicine is Beclometasone Dipropionate.
Cautions
To ensure your safety, inform your doctor if you have any of the conditions listed:
If you are pregnant, planning to become pregnant, or are breastfeeding
Have any other allergies
Have to undergo any surgery
Liver problems
Lung infection
Chest infection or breathing problems
Side Effects
Visit your doctor if there are any signs of an allergic reaction to Qvar Easi-Breathe. Some side effects include:
Allergic reaction
Abdominal pain
Fatigue
Vomiting
Blurred vision
Sores in the mouth
Difficulty in swallowing
Hoarseness
Headaches
Dry mouth
Stuffy nose
Some other severe side effects include
Bone thinning
Cataracts
Loss of vision
This list does not mention all the possible side effects.
IMPORTANT NOTE: The above information is intended to increase awareness of health information and does not suggest treatment or diagnosis. This information is not a substitute for individual medical attention and should not be construed to indicate that use of the drug is safe, appropriate, or effective for you. See your health care professional for medical advice and treatment.
Product Code : 12139