Description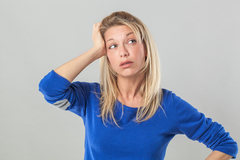 RESTASIS (Cyclosporine) is an ophthalmic medication prescribed to treat certain conditions of the eye. RESTASIS (cyclosporine) treats keratoconjunctivitis sicca, which is when the eye produces fewer tears because of inflammation. During inflammation, the eye is swollen, red, and sometimes itchy and irritated. Inflammation may slow or stop tear production.
RESTASIS increases the production of tears, relieving dry eyes
RESTASIS contains an immunosuppressive agent, cyclosporine, that reduces inflammation. The exact mechanism is not well understood.
Directions
Instill one drop of RESTASIS twice daily into each eye.
Separate the administration of RESTASIS by at least 15 minutes from other ophthalmic products.
The vial should be gently inverted several times until the solution becomes a uniform, white, and opaque.
Ingredients
The active ingredient of RESTASIS is cyclosporine 0.05%.
The inactive ingredients are carbomer copolymer type A, castor oil, polysorbate 80, purified water, and sodium hydroxide.
Cautions
Do not touch the tip of RESTASIS to the eye or other surfaces. Doing so may contaminate the product and lead to infections of the eye.
Remove contact lenses before applying RESTASIS. Lenses should be reinserted at least 15 minutes after applying RESTASIS.
RESTASIS has not shown to increase tear production in patients taking topical anti-inflammatory drugs or those wearing punctal pugs.
Side Effects
The most common adverse effects of RESTASIS include:
Blepharitis
Blurred vision
Burning sensation of eyes
Conjunctival hyperemia
Epiphora
Eye discharge
Eye irritation
Eye pain
Eye pruritus
Feeling of a "foreign body" in the eye
Headache
Stinging of the eyes
Urinary tract infection
Visual disturbance
RESTASIS eye drops can be bought online with a valid prescription from a doctor.
References
Restasis [package insert]. Irvine, CA: Allergan, 2012.
Fact Table

Formula

C62H111N11O12

License

EU EMA

Bioavailability

Varies

Legal status

RX Only

Chemical Name

Cyclosporine

Elimination half-life

Variable (about 24 hours)

Dosage (Strength)

0.4ml each (30 vials, 60 vials), 0.05% (5.5ml)

Pregnancy

Consult a doctor

Brands

Restasis

Protein binding

Greater than 95%

PubChem CID

5284373

MedlinePlus

a601207

ChEBI

4031

ATC code

L04AD01

DrugBank

DB00091

KEGG

D00184

Routes of administration

By mouth
IMPORTANT NOTE: The above information is intended to increase awareness of health information and does not suggest treatment or diagnosis. This information is not a substitute for individual medical attention and should not be construed to indicate that use of the drug is safe, appropriate, or effective for you. See your health care professional for medical advice and treatment.
Product Code : 9592