Description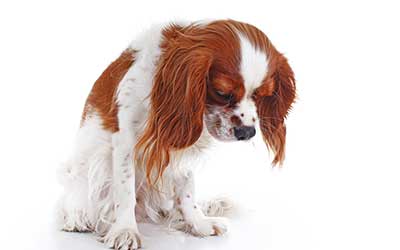 Rimadyl is a medication that is used by or on the order of a licensed veterinarian to alleviate pain and inflammation caused by osteoarthritis in dogs. It's also used to manage pain after soft tissue and orthopedic surgeries in dogs.
Rimadyl for dogs is available in caplets and chewable tablets.
Directions
Read the information that comes with your dog's prescription. The Rimadyl dosage is based on the weight of the dog. The recommended dose is 2 mg per pound of body weight once daily or 1 mg per pound of body weight twice daily. Consult with your veterinarian on giving the correct dose to your dog.
Ingredients
Rimadyl contains carprofen, a non-steroidal anti-inflammatory drug (NSAID).
Contraindications
Do not give Rimadyl to your dog if your dog is allergic to carprofen.
Fact Table

Formula

C15H12ClNO2

License

US FDA

Bioavailability

-

Legal status

US: RX Only

Chemical Name

Carprofen

Elimination half-life

Approximately 8 h (range 4.5–9.8 h) in dogs

Dosage (Strength)

75mg Chewables (60 capsules), 100mg Palatable (30, 60, or 180 chewables)

Pregnancy

Consult a vet

Brands

Rimadyl, Carprofen, Novox, Carprieve, Vetprofen, Quellin

Protein binding

99%

PubChem CID

2581

MedlinePlus

-

ChEBI

364453

ATC code

QM01AE91

DrugBank

DB00821

KEGG

D03410

Routes of administration

Oral
Cautions
Before your dog starts taking Rimadyl, discuss the following with your veterinarian:

All the medications your dog takes
Your dog's allergies
Your dog's health history and current health problems
Your dog's pregnancy or nursing status

Rimadyl should not be used in humans. Keep Rimadyl away from children.
Rimadyl is for use in dogs only. Keep Rimadyl away from cats and other animals.
Rimadyl may cause stomach and intestinal, kidney, or liver problems.
Rimadyl should not be used in dogs with bleeding disorders, such as Von Willebrand's disease.
Because Rimadyl chewable tablets taste good to dogs, be sure to store the tablets out of reach of your dog.
Side Effects
Rimadyl side effects include decreased appetite; vomiting; diarrhea; dark and tarry stools; increased water consumption; increased urination; pale gums due to anemia; yellowing of the gums, skin, or whites of the eyes; tiredness; seizures; and behavioral changes. Contact your veterinarian right away if your dog develops side effects that concern you or won't go away.
Reference:
Rimadyl. Kalamazoo, MI: Zoetis Inc.; 2019.
IMPORTANT NOTE: The above information is intended to increase awareness of health information and does not suggest treatment or diagnosis. This information is not a substitute for individual medical attention and should not be construed to indicate that use of the drug is safe, appropriate, or effective for you. See your health care professional for medical advice and treatment.
Product Code : 2460