Description
Rulid Uses and Indications: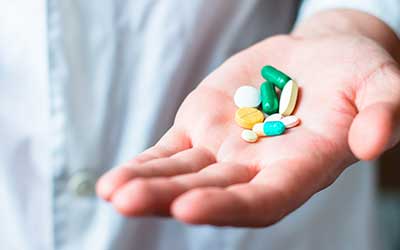 Rulid is a semi-synthetic macrolide antibiotic. It is very similar in composition, chemical structure, and mechanism of action to erythromycin, azithromycin, or clarithromycin. Rulid prevents bacteria from growing, by interfering with their protein synthesis. Rulid has a similar antimicrobial spectrum as erythromycin but is more effective against certain gram-negative bacteria, particularly Legionella pneumophila. It can treat respiratory tract, urinary and soft tissue infections. Roxithromycin is preferred for treating otitis media, sinusitis, and pneumonia.
You can purchase Rulid online from Canada Pharmacy at the best price possible.
.
Directions
It should be given 15 minutes before food or on an empty stomach.
For Adults: 150 mg twice daily or 300 mg once daily orally for 5-10 days in susceptible infections
For children weighing 6-40 kg: 5-8 mg/kg daily
Renal impairment: Dosage adjustment may be required.
Hepatic impairment: Usual daily doses should be halved in hepatic impairment.
Special Populations: Cirrhosis: 150 mg once daily.
Always take Rulid exactly as the doctor has prescribed you. Altering the dosage without prior consultation may prove to be harmful.
Ingredients
Each Rulid 150 mg and 300 mg contains roxithromycin 150mg and roxithromycin 300mg as an active ingredient respectively.
The inactive ingredients include:
Hydroxypropyl cellulose
Poloxamer
Povidone
Colloidal anhydrous silica
Magnesium Stearate
Talc
Maize Starch
Hypromellose
Anhydrous glucose
Titanium dioxide
Propylene glycol
Cautions
Roxithromycin should be given with caution in patients with hepatic/renal impairment/QT prolongation. It is contraindicated in patients with known hypersensitivity to macrolides. Interaction with alcohol is unknown. It is advisable to consult your doctor before consumption. Consult your doctor and discuss the potential benefits and risks associated with taking the medicine when pregnant.
Use of this medicine while breastfeeding is not recommended. You should discontinue breastfeeding if the use of this medicine is absolutely necessary. In case of an overdose, seek immediate medical help. If you miss a dose, skip it and never take 2 doses at a time.
Side Effects
Side effects that may occur from Roxithromycin include:
Nausea and vomiting
Severe stomach ache
Severe diarrhea
Mouth sores
Vaginal thrush
Skin rash
Headache
Changes in your heartbeat
Ringing or buzzing in the ears
Decreased appetite
If an allergic reaction occurs, tell your doctor immediately.
IMPORTANT NOTE: The above information is intended to increase awareness of health information and does not suggest treatment or diagnosis. This information is not a substitute for individual medical attention and should not be construed to indicate that use of the drug is safe, appropriate, or effective for you. See your health care professional for medical advice and treatment.
Product Code : 10183