Description
Sentinel Spectrum For Dogs Uses: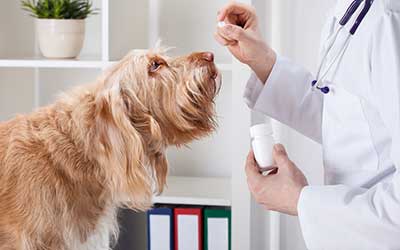 Sentinel Spectrum for dogs helps you in providing your pet flea and heartworm protection. This medication is beef-flavored and chewable and fights against 6 parasites.
These chewing treat also help in controlling whipworms, hookworms, roundworms, and tapeworms. This medication helps in controlling common intestinal parasites.
Sentinel Spectrum consists of an insect growth regulator that helps in killing flea eggs and prevents them from hatching into adult fleas.
You can buy Sentinel Spectrum from Canada Pharmacy.
Directions
Sentinel Spectrum medication is to be given to your pet orally. It can be given to dogs and puppies of more than 6 weeks of age.
It should be given once every month, and the dosage of this medication depends on your dog's weight. For protection against heartworm, give these tablets once a month and continue for 6 months. It should be given at least once a month every year.
Make sure to give this drug to your dog on the same date every year. It is advised that you give this medication to your dog either with or immediately after every meal so that this medication can be absorbed completely. It should be given to the dog to chew and not swallow directly.
In case of an overdose, consult your veterinarian. Avoid giving this medication to your dog if it is already taking a medication for heartworm.
Ingredients
The main ingredients are Milbemycin oxime, lufenuron, and praziquantel.
Cautions
Do not use this drug in puppies less than 6 weeks of age.
Do not use this drug in puppies that weight under 2 pounds
It is still not clear if this drug can be used for pregnant dogs or dogs that are lactating.
This drug is not safe to use for MDRI-allele mutation; this includes Australian shepherds, collies, shelties, etc.
Caution is advised if your pet is taking azole antifungals such as ketoconazole, Carvedilol (Coreg), Cyclosporine (Atopica), and Diltiazem (Cardizem).
Side Effects
Some side effects from this drug include:
Mild or transient hypersensitivity reaction
Labored breathing
Vomiting
Hypersalivation
Lethargy
These side effects are caused due to the release of protein from dying offspring.
Some other serious side effects include:
Vomiting
Depression
Lethargy
Pruritus
Urticarial
Diarrhea
Anorexia
Skin congestion
Ataxia
Convulsions
Salivation
Weakness
IMPORTANT NOTE: The above information is intended to increase awareness of health information and does not suggest treatment or diagnosis. This information is not a substitute for individual medical attention and should not be construed to indicate that use of the drug is safe, appropriate, or effective for you. See your health care professional for medical advice and treatment.
Product Code : 11418