Description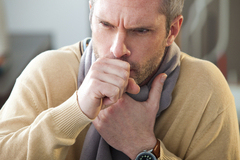 SPIRIVA RESPIMAT (Tiotropium) is an inhaled medication prescribed to treat asthma or chronic obstructive pulmonary disease (COPD). Patients with these conditions may have trouble breathing because of bronchospasms, which is an abnormal tightening of the muscles of the lungs.
SPIRIVA RESPIMAT works by binding to receptors on the surface of muscle cells in the lung called muscarinic-receptors. When SPIRIVA RESPIMAT binds to these receptors, it causes lung muscles to relax, causing bronchodilation and making breathing easier.
Fact Table

Formula

C19H22BrNO4S2

License

US FDA, US DailyMed

Bioavailability

19.5%

Legal status

Rx-Only

Chemical Name

Tiotropium

Elimination half-life

5–6 days

Dosage (Strength)

Respimat 2.5mcg (60 puffs/30 doses/inhaler), 18mcg (30 doses/Handihaler), 18mcg (30 doses/rotacaps)

Pregnancy

Not Harmful

Brands

Spiriva

Protein binding

72%

PubChem CID

5487426

MedlinePlus

a604018

ChEBI

90959

ATC code

R03BB04

DrugBank

DB01409

KEGG

D01929

Routes of administration

inhalation
Directions
The SPIRIVA RESPIMAT dosage is different depending on what you are using the medication for.
Asthma: Two inhalations of SPIRIVA RESPIMAT 1.25 mcg once daily
COPD: Two inhalations of SPIRIVA RESPIMAT 2.5 mcg once daily
You must take the medication every day for the full effect. SPIRIVA RESPIMAT is not a rescue inhaler, and should not be used to treat acute bronchospasm.
Ingredients
The active ingredient in SPIRIVA is tiotropium bromide. Tiotropium is also the name for SPIRIVA RESPIMAT generic.
Cautions
Some patients have reported bronchospasm while taking SPIRIVA RESPIMAT and similar medication. If you have a worsening of symptoms, stop taking the medication and call your doctor.
Use SPIRIVA RESPIMAT with caution if you have narrow-angle glaucoma because this medication can make symptoms worse.
Anticholinergics like SPIRIVA RESPIMAT can worsen urinary retention. Use with caution if you have a history of prostatic hyperplasia or bladder neck obstruction.
Side Effects
The most common adverse reactions while taking SPIRIVA are:
Dry mouth
Dyspepsia
Non-specific chest pain
Pharyngitis
Rhinitis
Sinusitis
Upper respiratory tract infection
Urinary tract infection
The side effects may be different depending on whether you are treating asthma or COPD. Speak with your doctor or pharmacist for the entire list of side effects that applies to you.
References
Spiriva Respimat [package insert]. Ridgefield, CT: Boehringer Ingelheim International; 2004.
IMPORTANT NOTE: The above information is intended to increase awareness of health information and does not suggest treatment or diagnosis. This information is not a substitute for individual medical attention and should not be construed to indicate that use of the drug is safe, appropriate, or effective for you. See your health care professional for medical advice and treatment.
Product Code : 12309