Description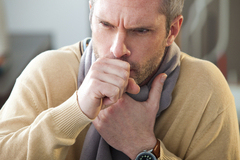 Chemical Name: Tiotropium ( ty-OH-tro-pee-um)

Spiriva is indicated for long term, once a day maintenance treatment for bronchospasm (wheezing or difficulty in breathing) that is associated with Chronic Obstructive Pulmonary Disease (COPD), including chronic bronchitis and emphysema. The medication works by relaxing the muscles in your airways and enlarging the airways. This way more air can move in/out of your lungs, in turn helping you breathe better. The capsule contains dry powder that is inhaled through a Spiriva HandiHaler (an oral inhalation device).

Spiriva is only used to prevent bronchospasm attacks. Do not use it during an attack because it will not work quickly enough -- use a fast-acting inhaler instead.

Available with prescription only.


Buy Spiriva Online
Shop online at Canada Pharmacy for the lowest available Spiriva cost. Shopping online is easy and convenient, with delivery direct to your doorstep. Canada Pharmacy also offers a Lowest Spiriva Cost
Guarantee
, so you can be sure you are getting the best price.
Spiriva Cost
The price of the medication will depend on where you purchase it. Buy Spiriva online to easily compare price points. There is also a better chance of receiving a Spiriva coupon online, opposed to waiting for instore sales.
Spiriva Coupon
Sign up
with Canada Pharmacy to receive a Spiriva coupon when it becomes available. If available, it will be emailed to Canada Pharmacy customers who buy their medications online. At this time there is no Spiriva Coupon offered directly on the website.
Directions
SPIRIVA is generally used once a day, every day, to help maintain any breathing problems relating to COPD and to reduce the possibility of COPD flare-ups. SPIRIVA is a dry powder that comes in a capsule form. Patients must insert the capsule in the HandiHaler and inhale the powder through your mouth. Avoid getting this medication in your eyes. If this does happen, immediately rinse with water. Do not swallow the capsule. Carefully read the Instructions for use.
Cautions
It is important to consult with your general practitioner (GP) before taking SPIRIVA HandiHaler, as it may not be the right treatment method for you. Share your medical history and conditions, including:
allergies to any medications
kidney problems
have glaucoma
an enlarged prostate
problems passing urine
pregnancy or plan to become pregnant
breast-feeding or plan to breast-feed
severe allergy to milk proteins
any medications you may be taking including prescription, non-prescription, eye drops, vitamins, and herbal supplements
Side Effects
SPIRIVA can cause serious side effects, including allergic reaction. Symptoms may include raised red patches on your skin (hives), itching, rash, and swelling of the lips, tongue, or throat that may cause difficulty in breathing or swallowing. If you have these symptoms of an allergic reaction, stop taking SPIRIVA and call your doctor immediately or visit a hospital emergency room.
Additional side effects of SPIRIVA include:
upper respiratory tract infection
dry mouth
sinus infection
sore throat
non-specific chest pain
urinary tract infection (UTI)
indigestion
runny nose
constipation
increased heart rate
blurred vision
This is not a complete list of all the possible side effects with SPIRIVA. Tell your general practitioner if you experience any side effect that bothers you or that are persistent.
IMPORTANT NOTE: The above information is intended to increase awareness of health information and does not suggest treatment or diagnosis. This information is not a substitute for individual medical attention and should not be construed to indicate that use of the drug is safe, appropriate, or effective for you. See your health care professional for medical advice and treatment.
Product Code : 12309