Description
Striverdi Respimat Inhalation Spray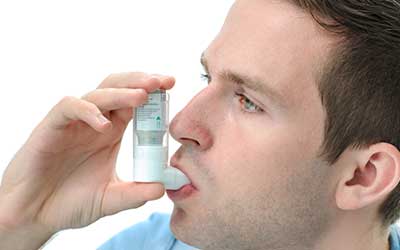 STRIVERDI RESPIMAT Inhalation Spray is a long-acting beta2-adrenergic agonist indicated for:
The long-term, once-daily maintenance bronchodilator treatment of airflow obstruction in patients with chronic obstructive pulmonary disease (COPD), including chronic bronchitis and/or emphysema (1.1)
Important limitations:
STRIVERDI RESPIMAT is NOT indicated to treat acute deterioration of COPD (1.2)
STRIVERDI RESPIMAT is NOT indicated to treat asthma (1.2)
Directions
How should I use STRIVERDI RESPIMAT? ? The STRIVERDI RESPIMAT inhaler has a slow-moving mist that helps you inhale the medicine. ? Read the step-by-step instructions for using STRIVERDI RESPIMAT at the end of this Medication Guide. ? Use STRIVERDI RESPIMAT exactly as your healthcare provider tells you to use it. ? Use 1 dose (2 puffs) of STRIVERDI RESPIMAT, 1 time each day, at the same time of the day. ? If you miss a dose of STRIVERDI RESPIMAT, take it as soon as you remember. Do not take more than 1 dose (2 puffs) in 24 hours. ? Do not spray STRIVERDI RESPIMAT in your eyes. ? Always use the new STRIVERDI RESPIMAT inhaler that is provided with each new prescription. ? STRIVERDI RESPIMAT does not relieve sudden symptoms of COPD. Always have a rescue inhaler medicine with you to treat sudden symptoms. If you do not have a rescue inhaler medicine, call your healthcare provider to have one prescribed for you. ? Do not stop using STRIVERDI RESPIMAT or other medicines to control or treat your COPD unless told to do so by your healthcare provider because your symptoms might get worse. Your healthcare provider will change your medicines as needed. ? Do not use STRIVERDI RESPIMAT: o more often than prescribed for you, or o with other LABA medicines ? Call your healthcare provider or get emergency medical care right away if: o your breathing problems worsen with STRIVERDI RESPIMAT o you need to use your rescue medicine more often than usual o your rescue inhaler medicine does not work as well for you at relieving your symptoms
Ingredients
What are the ingredients in STRIVERDI RESPIMAT? Active ingredient: Olodaterol Inactive ingredients: water, benzalkonium chloride, edetate disodium, and anhydrous citric acid
Cautions
Who should not use STRIVERDI RESPIMAT? Do not use STRIVERDI RESPIMAT if you have asthma. What should I tell my healthcare provider before using STRIVERDI RESPIMAT? Tell your healthcare provider about all of your health conditions, including if you: ? have heart problems ? have high blood pressure ? have seizures ? have thyroid problems ? have diabetes ? are pregnant or planning to become pregnant. It is not known if STRIVERDI RESPIMAT can harm your unborn baby. ? are breastfeeding. It is not known if STRIVERDI RESPIMAT passes into your breast milk and if it can harm your baby. ? are allergic to STRIVERDI RESPIMAT or any of its ingredients, any other medicines, or food products. Tell your healthcare
Side Effects
The most common adverse reactions at the recommended dose were nasopharyngitis, dizziness, hypertension, rash and arthralgia. These were usually mild or moderate in intensity.

IMPORTANT NOTE: The above information is intended to increase awareness of health information and does not suggest treatment or diagnosis. This information is not a substitute for individual medical attention and should not be construed to indicate that use of the drug is safe, appropriate, or effective for you. See your health care professional for medical advice and treatment.
Product Code : 13180