Description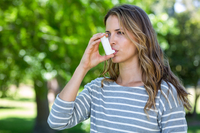 SYMBICORT is an inhaler that contains a combination of two medications - budesonide, and formoterol. SYMBICORT is prescribed for the treatment of asthma in children over 6 years old and adults. It can also be prescribed as a maintenance medication for patients with chronic obstructive pulmonary disease (COPD), including emphysema and chronic bronchitis.
Asthma and COPD are chronic conditions where a person has difficulty breathing either due to spasms of muscles in the lungs or obstruction of the airways. SYMBICORT helps to treat these conditions by relaxing the airways.
Directions
The usual dose of SYMBICORT is 2 inhalations twice daily.
The standard inhaler sizes are SYMBICORT 80/4.5 mg and SYMBICORT 160/4.5 mg. Your doctor will determine the correct starting dose based on symptom severity and condition being treated.
After inhalation, rinse your mouth with water and do not swallow it. SYMBICORT contains the steroid budesonide, which can increase the risk of thrush if not washed from the mouth.
Ingredients
The active ingredients in SYMBICORT are the medications budesonide and formoterol.
Budesonide
Budesonide is an inhaled corticosteroid with anti-inflammatory activities. Corticosteroids are signaling molecules that send messages between the cells of the body. Budesonide works by reducing inflammation, swelling, and spasms in the lungs.
Formoterol
Formoterol is a long-acting beta2-agonist (LABA) that works quickly once inhaled. By activating beta-receptors on the surface of muscle cells in the lungs, formoterol causes these muscles to relax and increase breathing capacity.
Fact Table

Formula

C44H58N2O10

License

EU EMA, US FDA

Bioavailability

49%

Legal status

RX Only

Chemical Name

Budesonide / Formoterol

Elimination half-life

4.7 hours

Dosage (Strength)

80/4.5mcg MDI (120 doses/inhaler), 160/4.5mcg MDI (120 doses/inhaler)

Pregnancy

Consult a doctor

Brands

Symbicort

Protein binding

50%

PubChem CID

56841116

MedlinePlus

-

ChEBI

-

ATC code

R03AK07

DrugBank

DB00983

KEGG

D09595

Routes of administration

Inhalation
Cautions
SYMBICORT is a maintenance medication and not a rescue inhaler. For episodes of acute bronchospasm, a short-acting beta2-agonist (SABA) inhaler like albuterol should be used.
Medications like SYMBICORT that contain formoterol or another LABA should be used with extreme caution in patients with asthma. In clinic trials, other LABAs have been shown to increase the risk of asthma-related death. Therefore, inhaler combinations that contain a LABA should be reserved for more extreme cases of asthma and used for as little time as possible.
Corticosteroids may increase the risk of infections like thrush and pneumonia.
Speak with your doctor or pharmacist for a full list of cautions.
Side Effects
Common side effects of SYMBICORT inhaler include:
Back pain
Headache
Influenza
Nasal congestion
Nasopharyngitis
Oral candidiasis
Pharyngolaryngeal pain
Stomach discomfort
Upper respiratory tract infection
Vomiting
References
Symbicort [package insert]. Wilmington, DE,: AstraZeneca, 2017.
IMPORTANT NOTE: The above information is intended to increase awareness of health information and does not suggest treatment or diagnosis. This information is not a substitute for individual medical attention and should not be construed to indicate that use of the drug is safe, appropriate, or effective for you. See your health care professional for medical advice and treatment.
Product Code : 11571