Description
Synjardy Medicine Uses and Indications: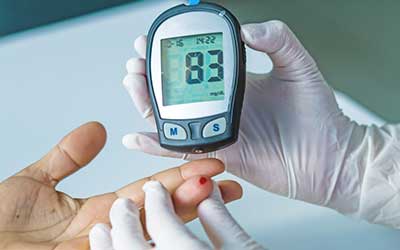 Synjardy medicine is a blend of empagliflozin and metformin drugs. This medication is used with a balanced diet and workout routine to regulate high blood sugar in individuals that have type 2 diabetes. Empagliflozin and metformin help in controlling the levels of blood sugar. Empagliflozin functions by allowing the kidneys to discard glucose from the bloodstream. Metformin reduces the production of glucose in the liver and also makes the intestines to absorb a lesser amount of glucose.
Regulating high blood sugar levels help in the prevention of kidney issues, loss of sight, nerve issues, limbs problems, and sexual function issues.
You can buy Synjardy medicine online from Canada Pharmacy at the best price.
Directions
Take Synjardy medicine just the way your doctor has prescribed it to you. Do not increase or decrease the amounts of the medicine without your doctor's consent. Do not take the medicine for shorter or longer than it is suggested. For more information, follow the guidelines provided with the prescription label. Make sure that you have had your kidney tested before taking this medicine.
Take Synjardy medicine twice every day orally. You are required to take Synjardy medicine with a meal in order to avoid an upset stomach. You must swallow the whole tablet; avoid breaking, chewing, or crushing the tablet.
To see the desired results, it is important to take Synjardy medicine at the same time consistently, along with a healthy diet and workout routine.
Ingredients
Synjardy medicine contains the active ingredients Empagliflozin and Metformin Hydrochloride.
Inactive ingredients are:
Copovidone
Cornstarch
Colloidal silicon dioxide
Magnesium stearate
Cautions
Consult your doctor before taking Synjardy medicine and inform him/her if you have or had any other medical complications and are taking any medications for them. This medication is not for you if you:
Have kidney or liver issues
Have low blood pressure
Have a history of heart diseases
Have urinary bladder diseases
Have pancreas issues
Are currently on a diet that is low in salt
Are pregnant (in 2nd or 3rd trimester)
Are breastfeeding
You don't want to get pregnant (metformin may kindle the process of ovulation and increase the risk of accidental pregnancy)
Are below the age of 18 years
Side Effects
Some of the harmful effects of using Synjardy medicine are:
Dehydration
Difficulty in passing urine (increased/decreased urine)
Weakness
Excess acid in blood
Nausea
Stomach aches
Vomiting
Confusion
Difficulty breathing
Flu symptoms
Blood in urine
Genital discharge
Genital rashes
Back pain
IMPORTANT NOTE: The above information is intended to increase awareness of health information and does not suggest treatment or diagnosis. This information is not a substitute for individual medical attention and should not be construed to indicate that use of the drug is safe, appropriate, or effective for you. See your health care professional for medical advice and treatment.
Product Code : 13179