Description
Synovial-Flex Joint Care Granules For Dogs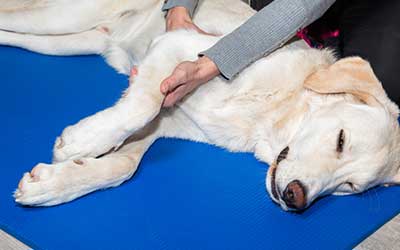 Synovial-Flex Joint Care Granules for Dogs is a complete nutritional product for animal health that syndicates Perna canaliculus, MSM and Omega-3 fatty acids, glucosamine HCL, antioxidants, and creatine monohydrate. This product supports your dog's strong hip and joint function. Synovial-Flex Joint Care for Dogs also helps in lessening the pain related to normal day to day activities and exercises. This product is available in granules, therefore easy to digest and is also very tasty for dogs.
This product:
Improves the flexibility and functions of joint
Strengthens and rebuilds joint cartilage
Synergistic mixture of beneficial antioxidants
Enhances mobility
Has an edible liver-flavored formula
You can purchase this medicine online from Canada Pharmacy at the best price.
Directions
Follow the instructions about Synovial-Flex Joint Care Granules for Dogs dosing just the way it has been prescribed by your dog's veterinarian. Read the packaging label for further information.
You can give the formula with a meal or after a meal in order to avoid digestive problems. The quantity of the product will depend on your dog's weight.
Early Administration for around 4 to 6 weeks
Give 1/4th scoop every day to dogs those weigh around 5 to 15 lbs.
Give 1/2nd scoop every day to dogs those weigh 16 to 30 lbs.
Give 1 scoop every day to dogs those weigh 31 to 60 lbs.
Give 2 scoops every day to dogs those weigh 61 to 100 lbs.
Give 2 1/2nd scoops every day to dog those weigh more than 100 lbs.
After the initial dose, eventually, bring your dog to the maintenance dosage.
Ingredients
Synovial-Flex Joint Care Granules for Dogs contains the active ingredients:
Glucosamine HCL
MSM [Methylsulfonylmethane]
Creatine Monohydrate
Perna Canaliculus
Proprietary blend of Citrus Bioflavonoids, Calcium Phosphate, Manganese Sulfate, Vitamin C, Zinc Sulfate, Alpha Lipoic Acid, and Grape Seed Extract
Eicosapentaenoic Acid DHA
Docosahexaenoic Acid DHA
Alpha Tocopheryl Acetate Vitamin E
Inactive ingredients:
Hydrolized vegetable protein
Marine lipid concentrates
Natural liver flavor
Sucrose
Whey
Cautions
Before using Synovial-Flex Joint Care Granules for Dogs, check with your veterinarian. Inform the vet if your dog has or had:
Clotting issues
Treatment with anticoagulant medicines
Diabetes
Metabolic issues
Urinary tract stones
Allergy to shellfish
Pregnancy
This product is only for dogs. Keep it out of the reach of other animals and toddlers. In the circumstance of unintentional overdose, seek immediate medical health.
Side Effects
Allergic reactions are likely such as:
Swollen face
Hives
Rashes and itching
Cold limbs
Coma
Seizures
Shock
IMPORTANT NOTE: The above information is intended to increase awareness of health information and does not suggest treatment or diagnosis. This information is not a substitute for individual medical attention and should not be construed to indicate that use of the drug is safe, appropriate, or effective for your pet. See your veterinarian for medical advice and treatment for your pet if you have any concerns.
Product Code : 11767