Description
What is Tambocor Used For?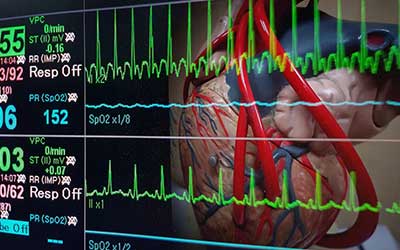 Chemical Name FLECAINIDE (FLEK-a-nide)
Tambocor generic is used for the treatment of particular types of serious and terminal irregular heartbeat disorders such as Stubborn ventricular tachycardia and Spastic supraventricular tachycardia.
Tambocor generic also restores and maintains a regular heartbeat. It is also used for the prevention of irregular heartbeat from returning. Flecainide is popularly known to be an anti-arrhythmic medication. It functions by stalling electrical signals in the heart that can lead to irregular heartbeats. Treating irregular heartbeats can lower the threat of heart strokes, heart attacks, and blood clots.
The medicine is available for purchase online at Canada Pharmacy for the best price.
Directions
Take Tambocor generic just the way your doctor has suggested. Do not change the quantity of your dose without your doctor's approval.
The usual initial dose of Tambocor generic is Flecainide 50 mg or Flecainide 100 mg twice every day (taken every 8-12 hours) with or without food, based on the type of heart disorder that is being treated. Your doctor may increase your dosage to Flecainide 150 mg according to your body's response to the medicine.
For some patients, Tambocor generic is started in the hospital so that the heartbeat can be carefully monitored.
In case of a missed dosage, take the medicine as soon as you remember but if it is time for your next pill, do not take an extra dose to make up for it. In case of overdose, seek immediate medical help.
Ingredients
Tambocor generic contains the active ingredient Flecainide Acetate.
Inactive ingredients are:
Magnesium Stearate
Cellulose, Microcrystalline
Croscarmellose Sodium
Starch, Corn
Cautions
Before taking Tambocor (Flecainide), consult your doctor and inform him/her if you have any other medical disorders and are taking medications for them. You may not consume this medicine if:
You are allergic to Flecainide or other ingredients included in the medicine
You have particular types of heart issues that are not controlled by a pacemaker such as second/third-degree atrioventricular block, trifascicular bundle branch block, or bifascicular bundle branch block
You are in cardiogenic shock
This medicine should not be consumed while you are pregnant unless the advantages are greater than the risks. Flecainide is passed into breast milk so you should not take this medicine if you are a nursing mother.
Side Effects
Adverse reactions of using Tambocor (Flecainide) are:
Difficulty in breathing
Slow or fast heartbeat
Slow pulse
Dizziness
Passing out
Increased weight
Swelling
Confusion
Extreme thirst
Muscle weakness
Increased passing of urine
Weakness
Pale skin
Jaundice
Headache
Anxiety
Shakiness
Diarrhea
Constipation
Depression
IMPORTANT NOTE: The above information is intended to increase awareness of health information and does not suggest treatment or diagnosis. This information is not a substitute for individual medical attention and should not be construed to indicate that use of the drug is safe, appropriate, or effective for you. See your health care professional for medical advice and treatment.
Product Code : 9381