Description
What is Trelegy Ellipta used for?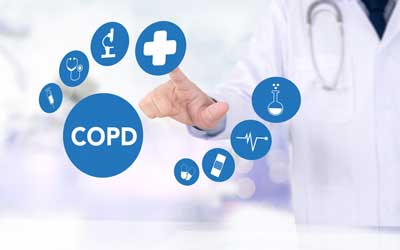 Umeclidinium is an anticholinergic. Vilanterol is a bronchodilator. These medications work by relaxing muscles in the airways to improve breathing. Trelegy Ellipta is used to improve symptoms and prevent bronchospasm in adults with COPD (chronic obstructive pulmonary disease), including bronchitis and emphysema.
Directions
Always use this medicine exactly as your doctor has told you. Check with your doctor or pharmacist if you are not sure.
The recommended dose is one inhalation every day at the same time of day. You only need to inhale once a day because the effect of this medicine lasts for 24 hours.
Don't use more than your doctor tells you to use.

Use Trelegy Ellipta regularly

It is very important that you use Trelegy Ellipta every day, as instructed by your doctor. This will help to keep you free of symptoms throughout the day and night.
Trelegy Ellipta should not be used to relieve a sudden attack of breathlessness or wheezing. If you get this sort of attack you must use a quick-acting reliever inhaler (such as salbutamol).
Ingredients
Trelegy Ellipta 92 micrograms/55 micrograms/22 micrograms inhalation powder, pre-dispensed
Cautions
Special warnings and precautions for use

Asthma
Trelegy Ellipta should not be used in patients with asthma since it has not been studied in this patient population.
Not for acute use
There are no clinical data to support the use of Trelegy Ellipta for the treatment of acute episodes of bronchospasm, or to treat an acute COPD exacerbation (i.e. as a rescue therapy).
Deterioration of disease
Increasing use of short-acting bronchodilators to relieve symptoms may indicate deterioration of disease control. In the event of deterioration of COPD during treatment with Trelegy Ellipta, a re-evaluation of the patient and of the COPD treatment regimen should be undertaken.
Patients should not stop therapy with Trelegy Ellipta without physician supervision since symptoms may recur after discontinuation.
Paradoxical bronchospasm
Administration of fluticasone furoate/umeclidinium/vilanterol may produce paradoxical bronchospasm with an immediate wheezing and shortness of breath after dosing and may be life-threatening. Treatment with Trelegy Ellipta should be discontinued immediately if paradoxical bronchospasm occurs. The patient should be assessed and alternative therapy instituted if necessary.
Cardiovascular effects
Cardiovascular effects, such as cardiac arrhythmias, e.g. atrial fibrillation and tachycardia, may be seen after the administration of muscarinic receptor antagonists and sympathomimetics, including umeclidinium and vilanterol, respectively. Therefore, Trelegy Ellipta should be used with caution in patients with unstable or life-threatening cardiovascular disease.
Patients with hepatic impairment
Patients with moderate to severe hepatic impairment receiving Trelegy Ellipta should be monitored for systemic corticosteroid-related adverse reactions (see section 5.2).
Systemic corticosteroid effects
Systemic effects may occur with any inhaled corticosteroid, particularly at high doses prescribed for long periods. These effects are much less likely to occur than with oral corticosteroids.
Visual disturbance
Visual disturbance may be reported with systemic and topical corticosteroid use. If a patient presents with symptoms such as blurred vision or other visual disturbances, the patient should be considered for referral to an ophthalmologist for evaluation of possible causes which may include cataract, glaucoma or rare diseases such as central serous chorioretinopathy (CSCR) which have been reported after use of systemic and topical corticosteroids.
Coexisting conditions
Trelegy Ellipta should be used with caution in patients with convulsive disorders or thyrotoxicosis, and in patients who are unusually responsive to beta2-adrenergic agonists.
Trelegy Ellipta should be administered with caution in patients with pulmonary tuberculosis or in patients with chronic or untreated infections.
Anticholinergic activity
Trelegy Ellipta should be used with caution in patients with narrow-angle glaucoma or urinary retention. Patients should be informed about the signs and symptoms of acute narrow-angle glaucoma and should be informed to stop using Trelegy Ellipta and to contact their doctor immediately should any of these signs or symptoms develop.
Pneumonia in patients with COPD
An increase in the incidence of pneumonia, including pneumonia requiring hospitalisation, has been observed in patients with COPD receiving inhaled corticosteroids. There is some evidence of an increased risk of pneumonia with increasing steroid dose but this has not been demonstrated conclusively across all studies.
There is no conclusive clinical evidence for intra-class differences in the magnitude of the pneumonia risk among inhaled corticosteroid products.
Physicians should remain vigilant for the possible development of pneumonia in patients with COPD as the clinical features of such infections overlap with the symptoms of COPD exacerbations.
Risk factors for pneumonia in patients with COPD include current smoking, older age, low body mass index (BMI) and severe COPD.
Hypokalaemia
Beta2-adrenergic agonists may produce significant hypokalaemia in some patients, which has the potential to produce adverse cardiovascular effects. The decrease in serum potassium is usually transient, not requiring supplementation.
No clinically relevant effects of hypokalaemia were observed in clinical studies with Trelegy Ellipta at the recommended therapeutic dose. Caution should be exercised when Trelegy Ellipta is used with other medicinal products that also have the potential to cause hypokalaemia (see section 4.5).
Hyperglycaemia
Beta2-adrenergic agonists may produce transient hyperglycaemia in some patients. No clinically relevant effects on plasma glucose were observed in clinical studies with fluticasone furoate/umeclidinium/vilanterol at the recommended therapeutic dose. There have been reports of increases in blood glucose levels in diabetic patients treated with fluticasone furoate/umeclidinium/vilanterol and this should be considered when prescribing to patients with a history of diabetes mellitus. Upon initiation of treatment with Trelegy Ellipta, plasma glucose should be monitored more closely in diabetic patients.
Excipients
This medicinal product contains lactose. Patients with rare hereditary problems of galactose intolerance, the Lapp lactase deficiency or glucose-galactose malabsorption should not take this medicinal product
Side Effects
Like all medicines, this medicine can cause side effects, although not everybody gets them.
Immediate breathing difficulties
If your breathing or wheezing gets worse straight after using this medicine, stop using it and get medical help immediately.
Pneumonia (infection of the lung) in COPD patients (common side effect)
Tell your doctor if you have any of the following while using Trelegy Ellipta – these could be symptoms of a lung infection:
• fever or chills
• increased mucus production, change in mucus colour
• increased cough or increased breathing difficulties
Common side effects
These may affect up to 1 in 10 people:
• infection of the nose, sinuses or throat
• infection of the upper airways
• itchy, runny or blocked nose
• flu (influenza)
• common cold
• headache
• cough
IMPORTANT NOTE: The above information is intended to increase awareness of health information and does not suggest treatment or diagnosis. This information is not a substitute for individual medical attention and should not be construed to indicate that use of the drug is safe, appropriate, or effective for you. See your health care professional for medical advice and treatment.
Product Code : 13210