Description
TRELEGY ELLIPTA is a prescription medication used to treat chronic obstructive pulmonary disease (COPD). TRELEGY ELLIPTA contains a combination of three different medications that are used as maintenance therapy to improve breathing in people with COPD.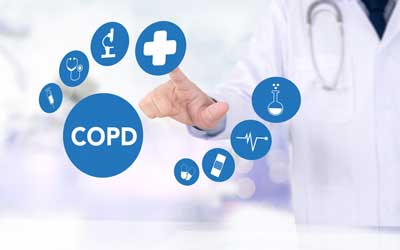 Fact Table

Formula

C80H96Cl2F3N2O13S+

License

EU EMA, US FDA

Bioavailability

15.2%

Legal status

RX Only

Chemical Name

Fluticasone Furoate / Umeclidinium / Vilanterol Trifenatate

Elimination half-life

15.1 hours

Dosage (Strength)

92/55/22mcg (100/62.5/25mcg) (30 doses/inhaler), 200/62.5/25mcg (30 doses/inhaler)

Pregnancy

Consult a doctor

Brands

Trelegy Ellipta

Protein binding

Greater than 99.6%

PubChem CID

122403924

MedlinePlus

a618017

ChEBI

-

ATC code

R03AL08

DrugBank

DB08906, DB09076, DB09082

KEGG

D11035

Routes of administration

Topical
Directions
Inhale one inhalation of TRELEGY ELLIPTA once daily.
After taking a TRELEGY ELLIPTA dosage, always rinse the mouth with water without swallowing after use, as the ingredient fluticasone can increase the risk of oropharyngeal candidiasis (thrush).
Ingredients
Fluticasone Fumarate
Fluticasone fumarate is an inhaled corticosteroid (ICS) which works by reducing inflammation in the cells of the lungs. Inflammation narrows the passages of the lungs and makes it difficult to breathe. In patients with COPD, cells of the immune system are overactive and ICSs help to reduce inflammation and make breathing easier.
Umeclidinium
Umeclidinium is a long-acting muscarinic antagonist (LAMA) or anticholinergic medication. Anticholinergics work by binding to smooth muscle cells of the lungs and relaxing the airways.
Vilanterol
Vilanterol is a long-acting beta-agonist (LABA). Vilanterol works by attaching to beta-receptors, which are located on the surface of smooth muscle cells in the lungs. By attaching to beta-receptors, vilanterol increases levels of the signaling molecule cyclic AMP (cAMP) and causes the muscles of the lungs to relax.
Cautions
Do not use TRELEGY ELLIPTA for acute bronchospasm or the treatment of asthma. If you are having trouble breathing, a rescue inhaler, like albuterol, should be used for immediate relief. TRELEGY ELLIPTA is a chronic medication and takes several days of regular use to begin working.
TRELEGY ELLIPTA may increase the risk of pneumonia in patients with COPD.
Use with caution if you have a chronic infection, fungal, viral, bacterial, tuberculosis, ocular herpes, or other chronic infections.
Tell your doctor if you have a history of heart problems.
Tell your doctor if you have a history of or current narrow-angle glaucoma as TRELEGY ELLIPTA may worsen the condition.
TRELEGY ELLIPTA may worsen urinary retention in patients who have bladder-neck obstruction or benign prostatic hyperplasia.
TRELEGY ELLIPTA has the potential to interact with many different medical conditions. Speak with your doctor or pharmacist for a full list of precautions.
Side Effects
The most common adverse effect of TRELEGY ELLIPTA may include:
Back pain
Cough
Diarrhea
Dysgeusia
Gastroenteritis
Headache
Oropharyngeal Pain
References
Trelegy Ellipta [package insert]. Research Triangle Park, NC: GlaxoSmithKline; 2017.
IMPORTANT NOTE: The above information is intended to increase awareness of health information and does not suggest treatment or diagnosis. This information is not a substitute for individual medical attention and should not be construed to indicate that use of the drug is safe, appropriate, or effective for you. See your health care professional for medical advice and treatment.
Product Code : 13210