Description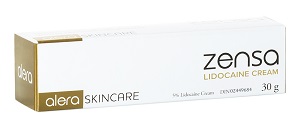 Zensa is an OTC skin numbing cream used topically to desensitize skin in advance of painful procedures like injections, tattooing of skin, laser hair removal, microblading or before using wax depilatories. Lidocaine works by temporarily deactivating nerve endings in the treated area of skin so that pain is felt less acutely during the procedure. This skin desensitizer cream also contains Vitamin E Acetate to promote faster redness reduction and skin healing. Buy Zensa numbing cream from Canada Pharmacy and get the best Zensa numbing cream price.
Fact Table

Formula

C14H22N2O

License

US DailyMed, EU EMA, US FDA

Bioavailability

3% (topical)

Legal status

OTC

Chemical Name

Lidocaine

Elimination half-life

1.5 h to 2 h

Dosage (Strength)

30g

Pregnancy

Generally safe

Brands

Zensa

Protein binding

60% to 80%

PubChem CID

3676

MedlinePlus

a682701

ChEBI

6456

ATC code

C01BB01

DrugBank

DB00281

KEGG

D00358

Routes of administration

Topical
Directions
Clean affected area with mild soap and warm water. Do not use any type of formulated skin cleanser or astringent before applying Zensa. Apply a moderate amount of cream to required areas up to 6 times daily and skin numbing cream can be applied as close to 15 minutes before procedure begins or injection is scheduled.
Ingredients
The active ingredient in Zensa tattoo numbing cream is Lidocaine 5%.
Cautions
For use with ages 2 and up.
Do not exceed dosage guidelines explained in insert. If pain relief is insufficient, you have the option of halting the procedure or tolerating the injection.
For topical use on skin only.
Keep away from eyes, ears, mouth, nose, and genitals.
Store between 15 and 30 degrees Celsius and do not freeze.
Interactions
There are no drug interaction risks indicated for Zensa and other Rx or OTC medications, but if you have any concerns you can discuss medications you are currently using with the pharmacist before you buy Zensa numbing cream.
Side Effects
Zensa side effects are possible, and some users may experience redness, rash or skin irritation. If side effects are experienced it may be best to discontinue use and talk to your pharmacist again regarding skin numbing cream alternatives.
Frequently Asked Questions
What is the efficacy and onset for Zensa cream?
Zensa Lidocaine Cream will numb skin within 10 minutes and keep it numb for 3 hours.
What sizes is Zensa available in?
Zensa Lidocaine Cream is available in two sizes: 30g and 2.5g tubes. The 30g tube is best for shingles, hemorrhoids, and tattooing, while the 2.5g tube is for injections, skin tag removal, and piercings.
What are the ingredients in Zensa Lidocaine Cream?
The active ingredient in Zensa Lidocaine Cream is 5% Lidocaine. The non-active, excipient and filler ingredients are Purified Water, Benzyl Alcohol, Carbopol, Lecithin, Propylene Glycol, Vitamin E Acetate.
What is the pH of Zensa Lidocaine Cream?
Zensa Lidocaine Cream has a neutral pH of 7.4.
Where should Zensa Lidocaine Cream not be applied?
Keep Zensa Lidocaine Cream away from the eyes or ears and make sure it is not ingested through the mouth or anywhere internally.
IMPORTANT NOTE: The above information is intended to increase awareness of health information and does not suggest treatment or diagnosis. This information is not a substitute for individual medical attention and should not be construed to indicate that use of the drug is safe, appropriate, or effective for you. See your health care professional for medical advice and treatment.
Product Code : 14213