Description
Acetylator Benefits and Uses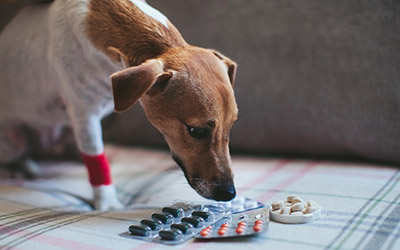 Acetylator for pets is designed specifically for your pets to support their gut, bowel and urinary tract function and health. It works by triggering the production of beneficial bacteria and digestive enzymes in the animals. This helps keep the genito-urinary tract healthy, support digestion and improve absorption of nutrients in your pet so that they are utilized efficiently. N-acytle glucosamine as the most active substance in the capsule directly aids the structural integrity and healthy function of the bowel. As a result, the body's natural protective barrier against invading microbes is further strengthened.
You can easily buy Acetylator from Canada Pharmacy to get amazing low prices and authentic products delievered right to your doorstep.
Directions
It depends on the weight of your pet. For animals that are:
Up to 30 lbs: 1 capsule, twice daily.
Around 30-60 lbs: 2 capsules, twice daily.
Over 60 lbs: 3 capsules, twice daily.
Get Acetylator online from Canada Pharmacy for high-quality medicines for your beloved pets.
Ingredients
Acetylator for pets contains N-Acetyl Glucosamine (shrimp and crab) in the largest proportions. It also contains a proprietary blend, lactobacillus acidophilus, bromelain, papain, and pepsin as the active ingredients. For inactive substances per capsule, it includes fructooligosaccharides (FOS), gellan gum, hypromellose, and maltodextrin. SIDE EFFECTS No major side effects have been recorded because all ingredients used are completely natural. However, administer your pet after the animal has eaten the capsule to:
Reduce chances of gastrointestinal upsets
Watch out for allergic reactions
Always use medicines according to the directions of your doctor. An examination is always recommended prior to use. Buy Acetylator online only from Canada Pharmacy to get genuine items at reasonable rates.
Cautions
This medicine is for animal use only.
Keep out of reach of children.
Take all medicines according to the prescribed dosages.
In case of overdose, contact your doctor
Acetylator for pets is not meant for diagnose, treat or cure any medical conditions.
If the condition of your pet does not improve or aggravate further, stop the use of this medicine and consult your veterinarian.
Side Effects
IMPORTANT NOTE: The above information is intended to increase awareness of health information and does not suggest treatment or diagnosis. This information is not a substitute for individual medical attention and should not be construed to indicate that use of the drug is safe, appropriate, or effective for you. See your health care professional for medical advice and treatment.
Product Code : 11548