Description
What is Midamor Medication?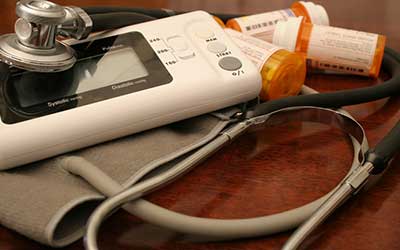 Chemical Name: AMILORIDE (a-MILL-oh-ride)
Midamor (Amiloride)
Midamor or Amiloride 5 mg is a diuretic, commonly known as a water pill. It is used in treating hypertension that is high blood pressure as well as to treat hypokalemia that is a condition that leads to reduced levels of potassium in the patient's body. It may even be used for helping patients with edema that is excess fluid in the body. Midamor medication works by triggering the body to expel extra salt and water while making sure that the kidneys do not get rid of too much potassium due to the action of other diuretics.
You can easily purchase Midamor from Canada Pharmacy and be rest assured that you will only get the genuine product. Plus, with Canada Pharmacy, you can enjoy reasonable rates and delivery of your order straight to your door!
Directions
This medicine needs to be taken orally usually with a meal. The dosage may vary according to the patient's need, but normally, it is one pill daily. Take the medicine regularly for the best results. Make sure you take amiloride 5 mg tablet well before bedtime to avoid getting up to urinate.
Ingredients
Midamor medication contains 5 mg of anhydrous amiloride HCl. The inactive ingredients in Midamor Amiloride 5 mg tablet are calcium phosphate, D&C Yellow 10, iron oxide, lactose, magnesium stearate, and starch.
Cautions
May cause the body to lose water and mineral salts leading to severe symptoms of dehydration such as dry mouth, weakness, thirst. Inform a doctor immediately if you notice these signs.
Water loss may also occur through vomiting, sweating, etc. Make sure you drink ample of fluids and keep yourself hydrated.
May increase potassium levels in the body, limit usage of foods high potassium such as bananas.
Not to be used by pregnant females until clearly needed.
Not to be used by breastfeeding mothers without a doctor's prescription.
Avoid alcohol while using this medication.
Consult your doctor before consumption. Also, share your medical history with the health professional.
Side Effects
Medications often carry side effects that usually go away once the treatment is completed. Common side effects of amiloride 5 mg are:
Nausea
Abdominal pain
Loss of appetite
Dizziness
Vomiting
Gas
A headache
IMPORTANT NOTE: The above information is intended to increase awareness of health information and does not suggest treatment or diagnosis. This information is not a substitute for individual medical attention and should not be construed to indicate that use of the drug is safe, appropriate, or effective for you. See your health care professional for medical advice and treatment.
Product Code : 2421