Description
Program Flea Control Uses: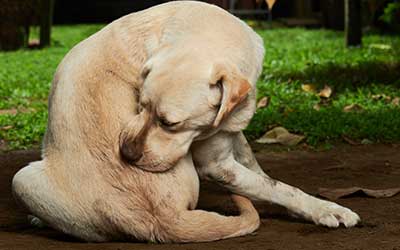 Program (lufenuron) is usually used for prevention of development or growth after the development of flea eggs in dogs and cats. This medicine is mostly mixed with other drugs when used on dogs and cats. This drug breaks the life cycle of flea eggs at their base, hence preventing them from growing into an adult insect. This drug does not treat ticks. It can only be used for flea prevention, and only in dogs and cats.
Program flea control can be easily bought online from Canada Pharmacy. Not only can you enjoy reasonable rates, but you can also get the products shipped right to your house too. The quality of your purchased product is assured by the online pharmacy.
Directions
For flea prevention, this drug is mixed with other drugs for an effective result.
If your dog or cat has already been affected by fleas or has flea-allergy dermatitis, first treat your dog or cat's skin with the proper medication, then use this medication to prevent further development of fleas.
Program (lufenuron) can also be used for Dermatophytosis in dogs and cats. The Program tablet must be taken with a meal or immediately after it.
For a suspension, mix the entire contents of the appropriate size pack(s) with about two tablespoons of your pet's food. Since Program suspension is a liquid, it mixes easily with wet food.
In dogs, lufenuron is dosed at 5 mg per pound (10 mg/kg) once a month.
In cats, lufenuron is dosed at 15 mg per pound (30 mg/kg) once a month or 5 mg per pound (10 mg/kg) injectable every six months.
Ingredients
Lufenuron is the active ingredient.
Cautions
It is only to be used on dogs and cats.
This drug is not made for use by humans.
Consult your veteran before using this drug on your pet.
This drug should not be used for animals that show a hypersensitive reaction to it or are allergic to it.
Side Effects
This drug does not have severe potential side effects.
If your pet is allergic to this drug, then the symptoms of allergies might show in which case, stop using this drug immediately and consult the vet.
IMPORTANT NOTE: The above information is intended to increase awareness of health information and does not suggest treatment or diagnosis. This information is not a substitute for individual medical attention and should not be construed to indicate that use of the drug is safe, appropriate, or effective for you. See your health care professional for medical advice and treatment.
Product Code : 2586